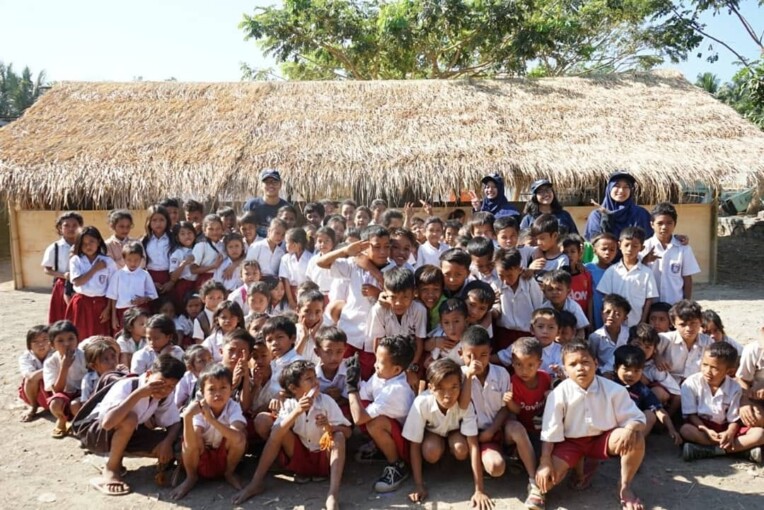 UGM students on community service programme have built two emergency schools in Gumantar village in North Lombok that had been hit by a series of earthquakes. The semi-permanent bamboo schools divided into six classrooms were an assistance from Canyoning Lombok, Edelweiss Outbound, Surabaya Peduli, and CMO- PT.PP (Persero) Tbk.
Adam Chaesar, UGM student, said the school was named as Sekolah Ceria (Fun School). The UGM students also conduct trauma healing programme for the school children. "The school has been built as a response to the destruction of the SD 4 Gumantar school building due to the earthquake last month," said the International Relations student when contacted by phone on Thursday (20/9).
He added the school was an initiative from the students to realise their main programme in social aspects. Along with fellow students, Stefani Dyah Retno Pudyanti, Madina Dwi Panuntun, and Winona Alda, they found sponsors for the construction of the school. "The construction also involved the local community and the UGM students," he said.
He explained each of the two schools is 12×6 meter square in size that both can accommodate up to 167 children. Management of the school is fully done by the UGM students. "Currently, all 167 school children have returned to school and have uniforms. We teach them all subjects, but these are shared in a more fun way," said Stefani.
The school runs two hours a day, involving the teachers who taught at the Gumantar school before the disaster. "We're thankful that all teachers have been involved here in addition to the headmaster," said Stefani.