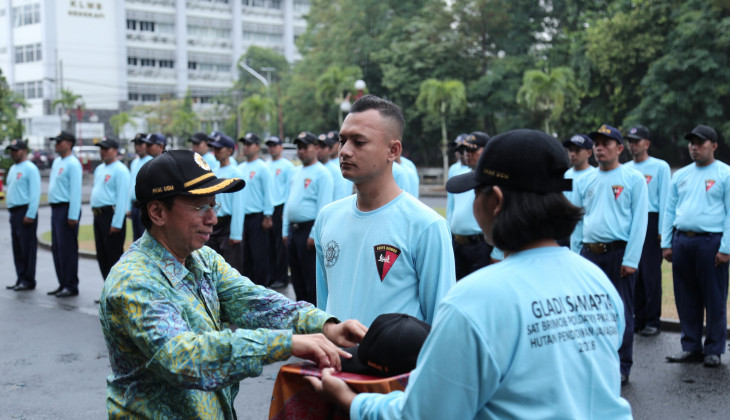 The training of preparedness held by UGM Centre for Occupational Security, Safety, Health, and Environment (PK4L) and Yogyakarta Mobile Brigade has ended. As many as 58 out of 59 participants have completed the three-day training from 18-20 September in Wanagama Forest, Gunungkidul regency.
Vice Rector for Human Resources and Assets, Prof. Dr. Ir. Bambang Agus Kironoto, when closing the training said that PK4L UGM spearheaded the service provision to all UGM academic community. They are tasked to ensure a safe and comfortable campus environment.
"Another difficult task is to secure all assets within UGM and protect the campus from misdeed and crime," he said at Balairung UGM, Thursday afternoon (9/20).
In various events such as graduation ceremonies and anniversary commemoration, the PK4L UGM plays an important role in ensuring the safety and convenience of people in it.
Bambang Kironoto opined that PK4L UGM needs to increase their competence periodically to meet the increasingly varied needs for their service.
"This training is very important, so it would be wise to hold it annually," he said.
The training is projected to update the competence of PK4L UGM continually. By following the latest information on the needs of campus community, they are expected to be able to provide better services.
Head of PK4L UGM, Arif Nurcahyo, S.Psi., M.A., stated the training was done to improve the personnel's skill and preparedness. They are expected to be more qualified in carrying out their duties and responsibilities.
"In general, the 2018 Preparedness Training went well and smoothly. It's all thanks to the cooperation of various partners, including the Gegana Detachment Branch of Yogyakarta Mobile Brigade, Playen Sector Police, Playen Military Command, and people around the UGM Wanagama Educational Forest Area," said Arif.