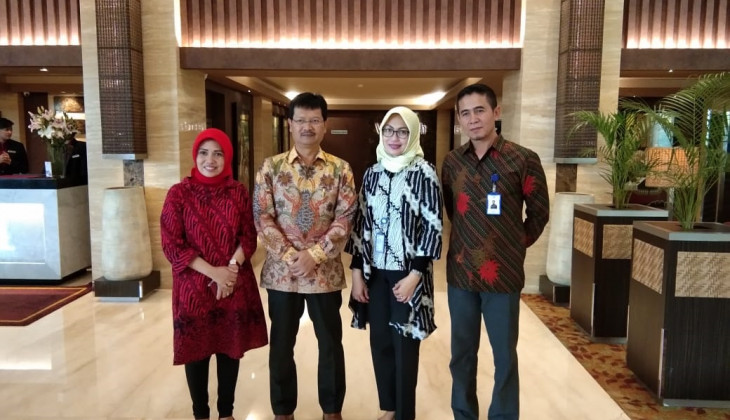 Jiwasraya insurance company has clarified the mistakes made in their advertisement on UGM tuition in 2018 which had gone viral. The advert had made the wrong perception among the public on the tuition amount.
"In a meeting this morning we have apologised to UGM related to our advertisement that had made a negative perception towards UGM," said Human Resource Division Head of Jiwasraya, Novi Rahmi, in a meeting with UGM Executive Secretary, Drs. Gugup Kismono, M.B.A., Ph.D., on Friday (21/9) in Yogyakarta.
Novi said following this incidence, Jiwasraya would improve their promotional methods to be in line with regulations and ethics.
Gugup Kismono, Ph.D., welcomed the meeting. He affirmed that tuitions at UGM study programmes are varied from 0 to 8 levels that take into account the student's economic capacity.
Gugup said the mistakes in the advert had indeed made many people -alumni or prospective students - concerned, because the amount of Rp26 million per semester had not been presented in the advert with UGM funding structure information. There had been no information on lower tuition in the same study programme which is from 0 - 7 levels or far below the 26 million per semester in average. Other study programmes in general cost much lower tuition per semester, too.
"The information presented in the advert made the impressions that UGM tuition was expensive and much more expensive than those of other universities presented in the infographics. Those amounts had not presented balanced comparative data because the cost structures for the compared programmes were different," he said.
Gugup concluded that UGM would continue to review the tuition to be more fair. Public communication would be made so that the society understands the UGM tuition policy, which is so far relatively lower, not to mention UGM has a very competitive education quality. UGM does not ask for fees other than published. He asked UGM partners, including Jiwasraya, to advance the national education together.