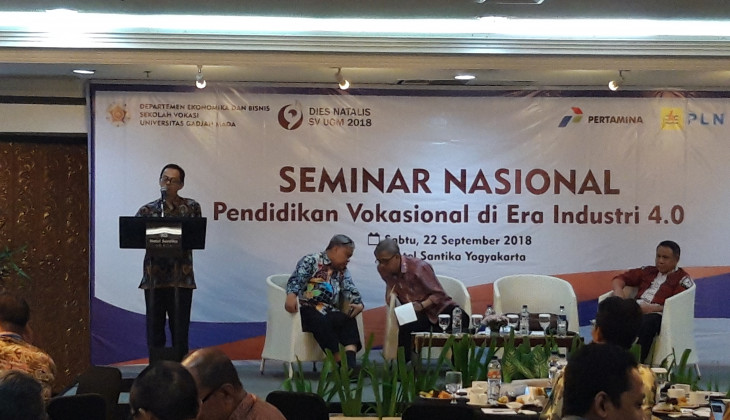 UGM Vocational School's Department of Economics and Business hosted a national seminar themed "Vocational Education in the Industry 4.0 Era" on Saturday (9/22).
Held at Santika Hotel Yogyakarta, the speakers discussed various challenges and opportunities to develop vocational education as a driving force of Indonesian economy in the future.
"The government realizes that we have neglected vocational education for too long. Hence, in discussion on education topics, the Presidents always brings vocational school up and how we revitalize it," said Patdono Suwignjo, Director General for Science, Technology, and Higher Education in the Ministry of Higher Education, Research, and Technology.
Patdono said, in Indonesia's higher education sector, the number of polytechnics and vocational schools is insufficient, which is only around 5.4 percent. It is far less than the percentage of polytechnic students in advanced industrial countries.
Then, another problem lies in the quality aspect as evidenced by the accreditation of each university.
"Indonesia lacks high-quality polytechnics. In fact, only 3 out of 262 polytechnics have earned an A accreditation," he explained.
To address this problem, the government has planned the revitalization of vocational education. Therefore, the industry can hire a competent workforce and all graduates can get jobs that suit their competence.
The revitalization included adjusting the education curriculum to industrial needs, establishing teaching factory, recruiting more lecturers from the industry, re-training lecturers, and revising the regulations on vocational education.
"We also prepared a multi-exit multi-entry system and students can join the program at the beginning of the first, second, third, or fourth year, then exit at the end of the year. Besides getting a diploma, students also get a certificate if they pass the examination for the competency certification."
On the same occasion, Head of Secretariat of National Professional Certification Board, Ir. Darwanto, explained several challenges of industrial digitization for Indonesian workers, including the loss of 1 to 1,5 billion jobs in 2015-2025 due to the replacement of human labor by machines. Moreover, it is estimated that in the future, as high as 65 percent of elementary students in the world will work in jobs that have not existed today.
Nevertheless, this era also presents various potentials to increase income and improve the community's life quality. These potentials must be prepared and guided to truly bring positive impacts on national development.
"The state must be present to address and direct every potential to strength. Technology usage in shaping the social, economic, and cultural environment leads to the improvement in people's welfare," said Darwanto.
More specifically, one of the employment strategies planned to address the demands of future workforce included re-designing the curriculum with digital human education, collaboration between industries, education and training institutions to identify future competency needs, as well as investment in developing digital competencies.