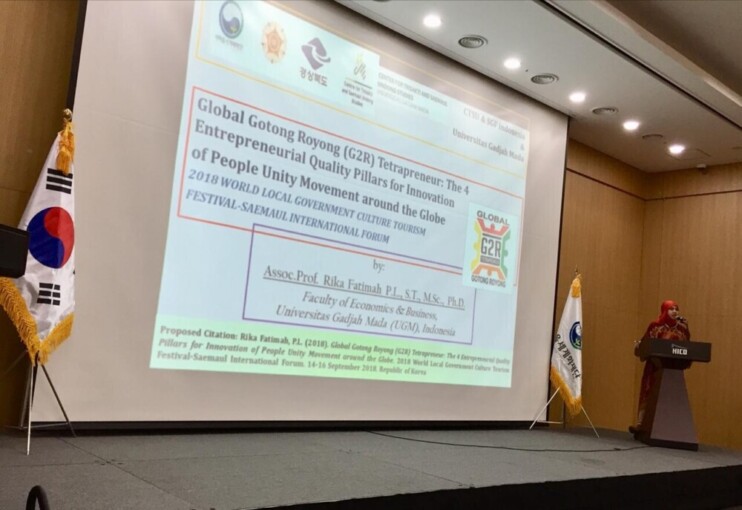 Economics and Business UGM lecturer, Rika Fatimah P.L., S.T., M.Sc., Ph.D, attended Saemaul Globalization Foundation (SGF) event hosted by Saemaul International Forum on Saturday (15/9) in Gyeongju, South Korea.
The forum is the media for discussion and sharing among rural development institutions around the world. The forum was divided in two sessions, presentation and discussion. Other resource persons come from Vietnam, Kyrgyzstan, and South Korea. This year the SGF raised theme "the Saemaul Undong method application to the end of poverty through the core rural development for the achievement of UN's Sustainable Development Goals".
In the forum, Rika presented her works, 'Global Gotong Royong (G2R) Tetrapreneur: The 4 Entrepreneurship Quality Pillars for Innovation of People Unity Movement around the Globe', where she explained that G2R Tetrapreneur model is an entrepreneurial movement inspired by Saemaul Undong.
"Similar with Saemaul Undong, G2R Tetrapreneur also emphasises increased rural community engagement (resident consciousness) to improve their quality of life through entrepreneurship," she said.
In the panel discussion, UGM lecturer in philosophy, Prof. Mukhtasar, described the implementation of Saemaul Undong to achieve sustainable rural development in developing countries. He said UGM had introduced the philosophy of Saemaul Undong and Gotong Royong to its students.
"Indonesia Tri-Sakti Saemaul Institute collaborates the Saemaul Undong and Gotong Royong philosophy to its students going on community service projects across Indonesia," he said.
Ji Ha Lee, Director of Saemaul Institute of Saemaul Undong Center, appreciated the strategy and achievements by Indonesia, Vietnam, and Kyrgyzstan in terms of rural potential development.
"The unique traits of the three countries can be made a reference. The G2R Tetrapreneur as an innovation of gotong royong movement in Indonesia, for example, I hope can flourish like Saemaul Undong," he concluded.