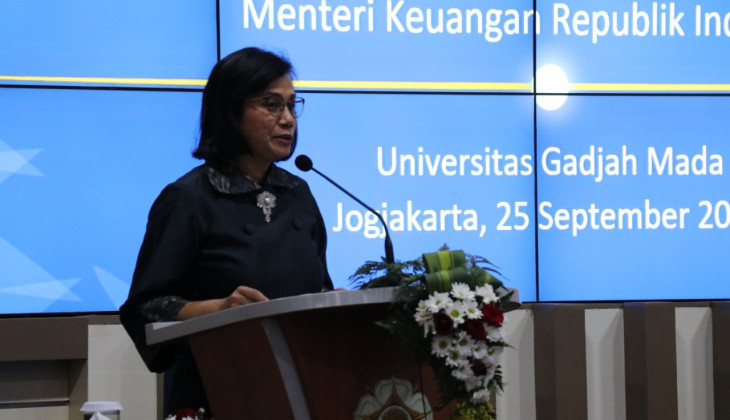 Finance Minister, Sri Mulyani Indrawati, stated that assets included in the State Property ought to be well-managed. Without good management, such assets will not give added value.
"In developed countries, there is no money, goods, and capital being left unused. All is forced to perform well to give value. Here we need to do that as well, not leaving any single goods unutilised," she said, giving a general lecture at Faculty of Economics and Business UGM on Tuesday (25/9).
The lecture described strategies for optimising state property management in fiscal policy administration. Minister Mulyani explained the Finance Ministry is mandated to ensure each of the rupiah that is spent should be held accountable and used to the maximum.
She has often found, however, that an infrastructure built by a government agency on state budget has eventually been underused due to unsynchronised matters between the agency and the regional government that is authorised to run it.
"This happens often in regions. That's why planning is important," she emphasised.
She explained of the state total assets in 2017, as much as 38% are of state properties worth 2,034.80 trillion. In the last few years there has been an increase in the amount of state properties in the form of machines and infrastructures.
She said State Property management was important as it reflects how a state plans and enacts development well. The more advanced a country is, the better the state asset management.
"Good management quality reflects the state civilisation, each of the money spent is used to give something to the next generation," she said.
The former World Bank Managing Director said currently state assets management was far more different from those in the past, because for the last 12 years, Indonesia has had a balance sheet that records all state assets.
"In the past 12 years there had been a big revolution regarding State Property. There was a very fundamental change when the state produced its balance sheets for the first time. This was a demarcation between old and current Indonesia," she added.
There are still challenges, however, to maximise using State Property. To spur economic growth, new paradigms are needed for state assets, from merely giving public services at a low cost to achieving the effectivity of asset use, cost-saving, state revenue increase, government investment added value, and improved governance.
Therefore, the minister asked UGM academics to develop good characters among the young generation in terms of state management.
"We have had a spectacular journey, yet there is much to be done. Let's improve our state assets for a better future for the next generation," she concluded.