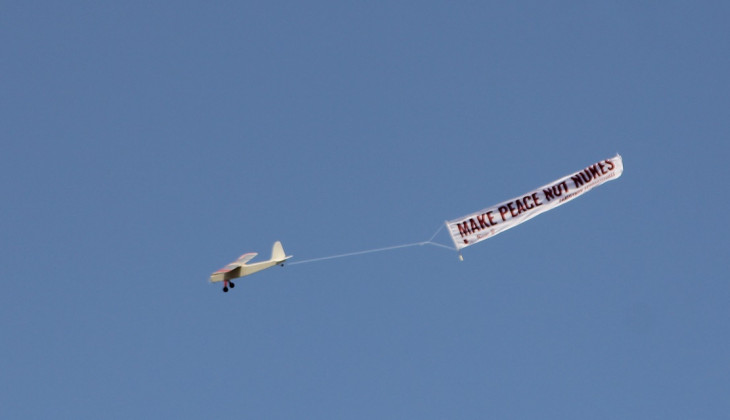 Anti-nuclear weapon activists around the globe conducted 26 September Global Day for Action to condemn investment done by BNP Paribas, a multinational bank. The action was aimed in order that BNP Paribas withdraw all of its investments from nuclear production companies. In Indonesia, Institute of International Studies Universitas Gadjah Mada (IIS UGM) conducts a similar campaign against nuclear weapon through social media and banners that read "Make Peace, Not Nukes" in the courtyard of Graha Sabha Pramana UGM.
Yunizar Adiputera, one of campaigners of International Campaign to Abolish Nuclear Weapons (ICAN), said they aimed at opening public participation that can stop nuclear weapon production through divestment campaigns in nuclear weapon industry.
"We would like to ask the public to urge global financial institutions avoiding investments in areas that are clearly against humanity value," said the International Relations lecturer in a release sent to reporters on Thursday (27/9).
Yunizar said the UN Treaty on the Prohibition of Nuclear Weapons is binding but it needs to be ratified by a minimum of 50 countries. This status is important to narrow the manoeuvre for nuclear weapon development. Currently, Indonesia is not among the 14 countries that have ratified the Treaty. So, the main target of ICAN and IIS UGM campaign in Indonesia is to encourage the government to ratify the Treaty soon. "As a country that is committed to humanity value, the Treaty ratification should be one of government priorities. The faster it is ratified, the stronger the ban gets," said Yunizar.