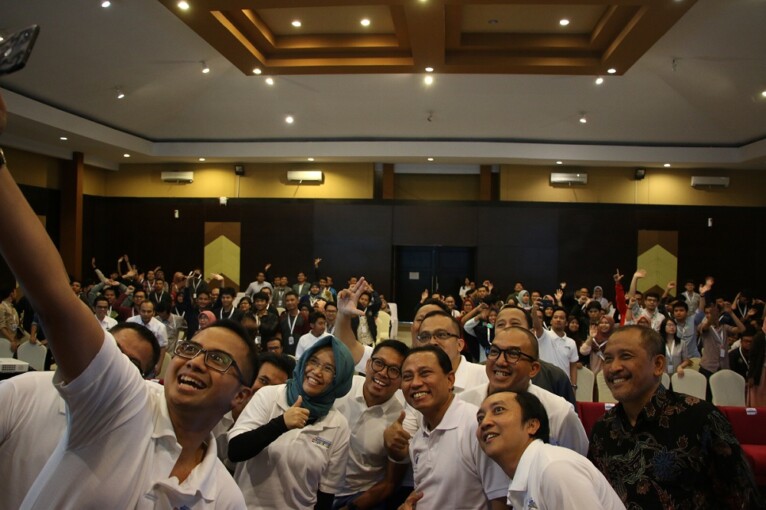 As many as 200 participants who are divided into 74 teams join Innovative Academy Appcelerate batch two. They will have training in creativity and innovation development based on digital technology for one year. The participants who are university students and alumni will later be selected to get funding for startup business from UGM and partners.
UGM Director of Business Development and Incubation, Dr. Hargo Utomo, said the Innovative Academy (IA) Appcelerate was not a competition. It would train participants from accross disciplines to collaborate in digital technology business idea.
"Innovative Academy Appcelerate is not a competition, we're not looking for winners, but to develop hard working spirit, working through collaboration to grow competitiveness," said Hargo to the participants of Energizing Startups seminar to open the IA Appcelerate Batch II, Saturday (29/9), at University Club UGM.
Through the programme, said Hargo, innovation culture was expected to grow among young people in order to resolve problems of society, government, and industry. "We want to build the culture of innovation as well as surviving and sustaining as startups," he said.
Hargo expected IA Appcelerate would generate more innovation business ideas than before. "We want you to come up with smart ideas related to supply chain, smart city, and logistics," he said.
UGM Vice-Rector for Research and Community Service, drg. Ika Dewi Ana, M.Kes, Ph.D., appreciated the second batch of the programme as it can grow the spirit of socioentrepreneur among young people. Despite the impacts of Industry 4.0 on manual labour or dehumanisation, she hoped the digital business idea could do rehumanisation instead. "I would like to ask all participants to do rehumanisation, increase awareness on critical environment, vulnerable societies who are marginalised by technology," she said.
Gideon Suranta Barus, GM IT Service Product Management of Lintas Arta, said the support from Lintas Arta for Innovative Academy programme by UGM would be able to serve as the bridge to the demand of the industrial world.
"There is a gap between industry and higher education so this programme can help minimise the gap, even to give solution to the industry so as to not dependent on external sides," she said.