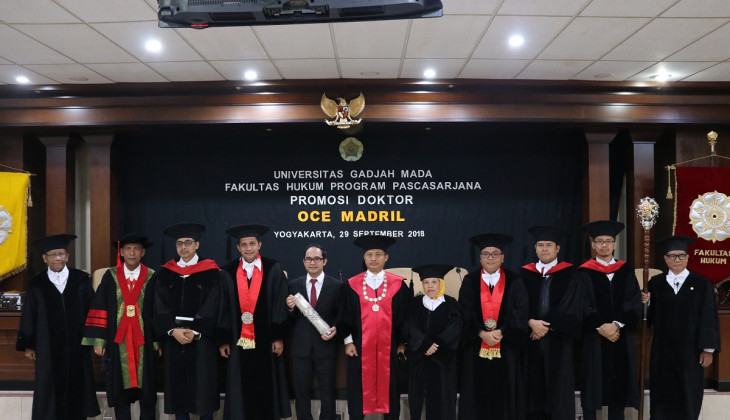 "There is an assumption that the configuration of presidential power influences the policies issued, including corruption policy," said Oce Madril, PhD student of UGM Faculty of Law, in his public doctoral examination on Saturday (9/12) at Room III-1.1.
This was the background of Oce's dissertation topic. With the title 'Political Law of President in Eradicating Corruption in Government', he further explained that the functions of Indonesia's Corruption Eradication Commission (KPK) are hampered lately.
"I see the KPK struggles to coordinate with government agencies, even though it has been regulated in the legislation," he said.
Therefore, in his dissertation, Oce suggested that KPK's position should be further strengthened by expanding its authority to be more comprehensive. He also mentioned the two possible ways.
First, by revising the KPK Law and issuing articles to strengthen its authority in preventing political corruption. Second, making changes in Law No. 28 of 1999 the legal umbrella for anti-corruption policies in the government. The law can be the basis of KPK to carry out monitoring tasks, thereby expanding its authority to cover the central and regional governance.
Another way to strengthen corruption eradication in Indonesia, he added, is by strengthening the authority of anti-corruption program coordinator in the government. This can be done in two ways; handing over this issue to one of the ministries by the president or forming a new institution under the direct presidential power.
"One of the main issues in anti-corruption policy is the absence of strong political commitment from the president. Presidential political support is an important prerequisite for ensuring the running of anti-corruption policy agenda," he concluded.