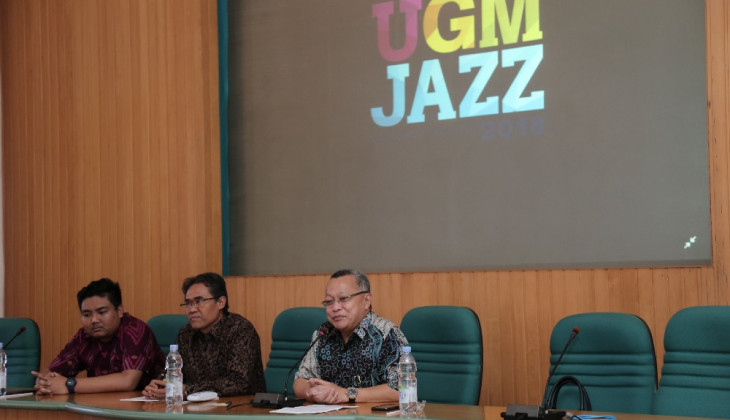 Two times winner of the Grammy Awards will feature in the 24th UGM Jazz 2018 to be held in Grand Pacific Hall Yogyakarta, 3 November 2018. Bob James Trio will perform along with Ron Otis (drums) and Michael Palazzolo (bass).
"After conducting a long negotiation, we are finally able to present Bob James in the UGM Jazz 2018," said Dr. A. Tony Prasetiantono, event promoter who is also lecturer of Faculty of Economics and Business UGM, in a press conference on Thursday (4/10) at Multimedia Room UGM.
Bob James is a leading musician that has won a series of contests. The pianist won the Grammy Awards in 1980 and 1986 and has been nominated 17 times for the award since 1973. Establishing jazz fusion band Fourplay with guitarist Lee Ritenour, bassist Nathan East, and drummer Harvey Mason, Bob is known for his song titled Angela, the theme song of TV series Taxi.
Tony said UGM Jazz 2018 concert was done annually which was known previously as Economic Jazz. This year the concert will also present Indonesian leading singers and musicians, such as Ruth Sahanaya, Candra Darusman, and Kunto Aji.
"The combination of world class jazz musician and Indonesia's leading performers can now be seen for an affordable price. This is the unique trait of UGM Jazz, a world class concert with a street concert price," said Tony.
Music goers can see the concert for an affordable price ranging from Rp200 thousand (silver) to Rp800 thousand (diamond).
Meanwhile, Rector of UGM, Prof. Ir. Panut Mulyono, M.Eng.,D.Eng., said that one of UGM identities is being the university of cultural centre. This means that UGM will always preserve existing culture and develop it more, including music.
"UGM is always keen when talking about cultural arts, among those are music. We are proud and we will support the annual concert programme of UGM Jazz," he said.