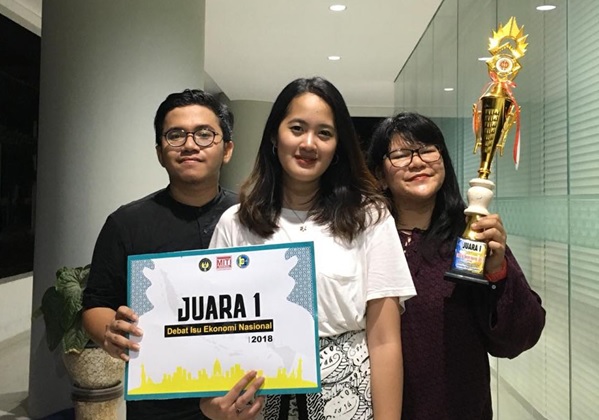 UGM students won the award during a debating competition on national economy (DIEN) 2018, organised by Universitas Yogyakarta on 13 October 2018.
The UGM team with members Sisilia Juliana Hanamaria (Economics 2016), Jesita Wida Ajani (Economics 2016), and Varrel Vendira (Planology 2016) became the champions after beating tens of university teams across Indonesia.
Sisilia said DIEN was student competition that became the forum for students to express their argument on current economic issues. The competition adopts Asian Parliamentary System on debate competition between Asia Pacific universities.
They became the winners after going through a series of selection, semi finals, and finals. As many as eight teams with the best essays went through. Later, four best teams were selected to the semifinals and eventually two best team went through to the finals.
"In the finals we won as pro team in the debate with the motion Polemics on Trade Minister policy in imported rice that does not disadvantage farmers and is considered to be able to accelerate economic equity," she said.