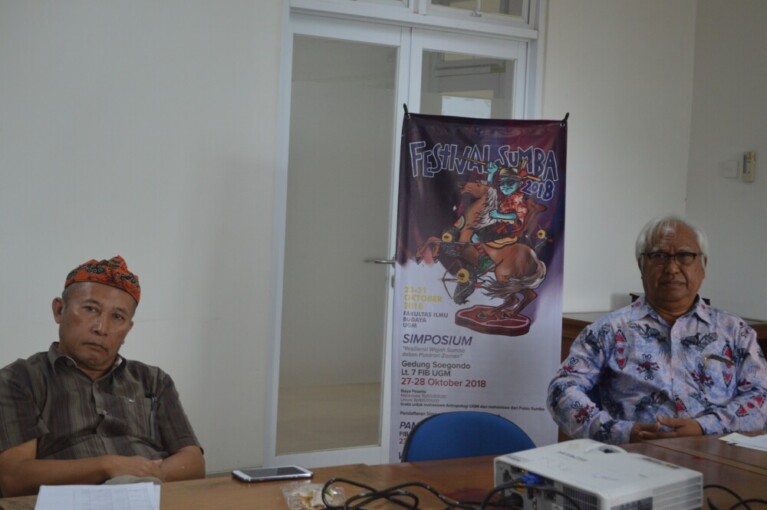 Anthropology Laboratories for Research and Action (LAURA), Anthropology Department, Faculty of Cultural Sciences UGM will hold the 2018 Sumba Festival from October 23-31. The festival comprises two main events, namely a Symposium and Cultural Performance themed "Welcoming Indonesia, Embracing the Edge of Nation: Resilience of Sumba Throughout Time".
Prof. Dr. PM. Laksono, M.A., the laboratory head, stated this cultural festival involves many groups and is expected to bring forth strategic thinking for the development of Sumba since it is still facing many problems.
In Sumba, East Nusa Tenggara, there are the world's most expensive resorts as well as neglected traditional houses. There are still people who can barely eat three times a day and drink clean water.
"Students from Sumba can compare it with Yogyakarta. It may be similar to Yogyakarta's underdevelopment in the 1950s. Therefore, a thorough discussion is expected to produce strategic steps for everyone, especially to promote Sumba culture because cultural evolution is the motor of change after all," Laksono said at Margono Building, Faculty of Cultural Sciences UGM, Thursday (10/18).
According to Laksono, the festival's theme is a metaphorical expression in anthropology. This study works in remote areas and on marginalised society in limited cases.
"As ethnography, it results in humanity which covers more than just a village or country. It is especially important if the government plans to build from the outskirts. Just like eating hot porridge, don't do it from the middle if you want to succeed. That's the philosophy."
Laksono continued, there are around 3,000 students from Sumba living in Yogyakarta. If one student spent Rp2 million a month, it means they have contributed Rp6 billion to Yogyakarta monthly.
"They have greatly contributed to us. Therefore, we hold this festival to embrace Sumba by introducing them to UGM enthusiastically."
For a week, the festival will present Sumba traditional houses. There will also be a discussion on 60 papers related to Sumba and the complexity of its problems.
"The issue ranges from biodiversity, how Sumba people respond to it using traditional and cultural mediation, the long-standing Marapu's belief, and how Sumba arranges biodiversity with the country," explained Laksono.
Apriawan, the committee head, said the festival does not only discuss Sumba issues academically but also holds cultural and art performances. There will be collaborative art performances by Sumba art communities in Yogyakarta, including Wangak, Bottlesmoker, Deungalih, Humbakustik, Sasmoen, and Om Jarang Pulang, as well as Sumba student communities in Yogyakarta.
Dr. Bambang Hudayana, M.A., Cultural Anthropology Department Head, welcomed the Sumba Festival at the campus. This event shows that LAURA plays an active role in promoting the culture of the Frontier, Outermost, and Least Developed region.