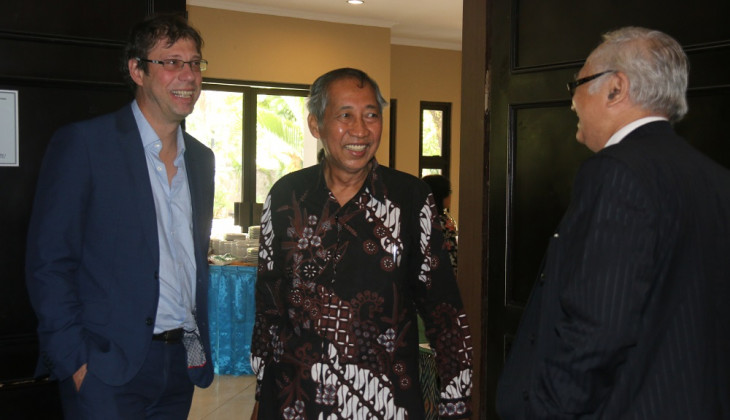 Faculty of Geography UGM held an international conference themed "Global Management of Environmental Resources" at UGM University Club from October 22 to 23. The conference was attended by hundreds of national and international researchers, including from Taiwan, the Netherlands, Singapore, and several European countries. Some researchers discussed the management of resources in a deteriorating environmental quality due to land conversion, population growth, and human activities in nature management without prioritizing sustainable development.
Hydrologist from Geography UGM, Prof. Dr. Sudarmadji., M.EngSc., focused on water scarcity that affected several regions in Indonesia. According to the professor, water resources are not unlimited even though they are renewable. He mentioned the three issues of water resources, namely water scarcity in which water resources are insufficient, a high amount of water that causes flooding, or poor water quality due to improper waste disposal. "Water scarcity is caused by population growth, land conversion leading to a decrease in groundwater, and human activities in agriculture, industry, and tourism," he explained.
However, he added, the issues of water resources management were also caused by natural factors including global climate change which led to erratic rainy or dry season. "Climate change is affecting water resources."
Amidst the issues of water scarcity, droughts, and floods, strategies in the management of water resources are essential. One of the strategies is the local wisdom of people living in rural areas where water sources are valued. "In rural areas, water sources are still highly maintained and even considered as sacred. This is a local wisdom."
Maintaining water sources, he opined, is a strategy to keep water resources available and able to meet people's needs for activities and consumption.
Researcher from National Taiwan Normal University, Prof. Tsung Yu Lee, explained the issue of climate change which increased the total rainfall amount that led to landslides or hurricanes as occurred in Taiwan. He noted that within two years there was a 20 percent increase in rainfall intensity with an average rainfall of 3000 mm per year. "As much as 600 mm of rainfall can even cause landslides. With 3000 mm, typhoons might occur," he said.
He suggested that countries with a high amount of rainfall should develop infrastructure to manage rainwater as a water source that could be channeled through water taps in every house.