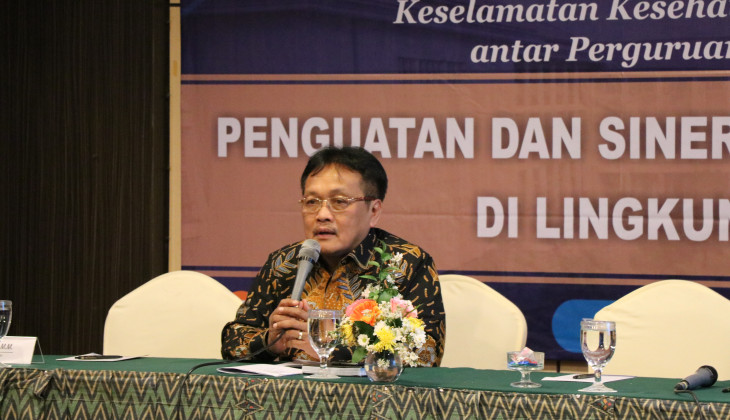 UGM Occupational Security, Safety and Health Centre ran a workshop on Wednesday (24/10) in University Club UGM.
As many as 23 university representatives from across Indonesia took part in the workshop which equipped them with aspects on safety and management on campus.
"There are many aspects to be given attention to relating to occupational security, safety and health in terms of human resource, facilities, and infrastructure," said Director of Monitoring in Manpower Ministry, Drs. Herman Prakoso Hidayat, MM.
He explained that occupational accidents occurred often in Indonesia although socialisation of the aspects had been done. In 2016 the number of accidents reached 101,367 with 2,382 fatalities, while in 2017 the figure increased to 123,041 with 3,173 fatalities.
According to Herman, the accidents could have been anticipated before by observing the security, safety and health aspects meticulously, including by checking the facilities and tools regularly.
"To build things is easy, but to maintain them is hard. Universities are asked to monitor their infrastructure and facility, particularly with regard to the buildings aspect which are mostly old," he said.
He said it needs technology adjustment on these aspects because technology also poses challenges apart from its benefits. Staff working in this area also need to care for other aspects such as self-safety.
Herman suggested universities to equip their students with training to give them an added value once they graduate.
The workshop also presented other speakers who talked about security synergy in the campus, waste disposal and laboratory as well as biosafety, disaster preparedness and emergency response, legality aspect in occupational accidents, sanitation and hygiene of canteen, fitness and ergonomy.