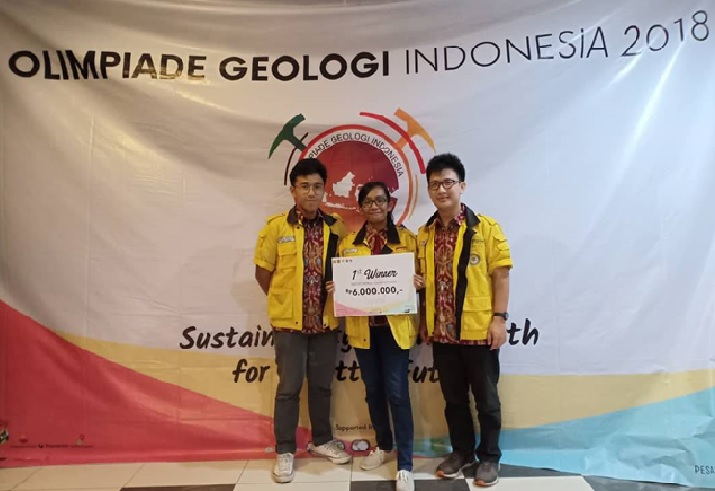 A team of UGM students has earned first place in the 2018 Geoscience Competition held by Faculty of Engineering Geology Universitas Padjajaran from October 18-20 in Bandung. Geoscience Competition is one of the highlights of the Indonesian Geology Olympiad. This competition consists of written tests of basic geology and analysis of case studies on engineering geology, hydrogeology, and geothermal geology.
UGM delegates, represented by Aya Shika V. Bangun, Ichsan Ramadhan, and Agung Rizki Perdana from Engineering Geology 2015, have successfully brought UGM's reputation to the national scale competition joined by various Indonesian universities. "We are proud and grateful for this achievement. This is a valuable experience and we hope to share the knowledge we get with friends and delegates in the coming years," said Agung in a release sent on Tuesday (10/30).
Another team member, Ichsan Ramadhan, explained that their team had been preparing for two months before the competition. "The preparation is done by studying together and consulting with our seniors and lecturers. Our performance is also supported by good teamwork," he said.
Aya Shika, another team member, recounted that the competition was held in two days. On the first day, they conducted a written test and case study on engineering geology – hydrogeology. "For the written test, each team was given questions about basic geological knowledge and geology of Indonesia."
Next, each team was given a case study on problems in engineering geology – hydrogeology, which must be completed in 360 minutes. "On the second day, the team received a case study on geothermal field analysis and prospecting to be completed in 210 minutes," she continued.
The competition ended with a presentation session by 6 practitioners and academics from each field of case study for 45 minutes. In this session, the judges reviewed the participants' case study answers and tested their understanding of the case studies. "During the competition, participants were quarantined and not allowed to access any information from the internet and electronic media," she recalled.
In this competition, she added, each team must identify problems, integrate geology with other disciplines, and generate the most applicable and efficient solutions in a limited time.