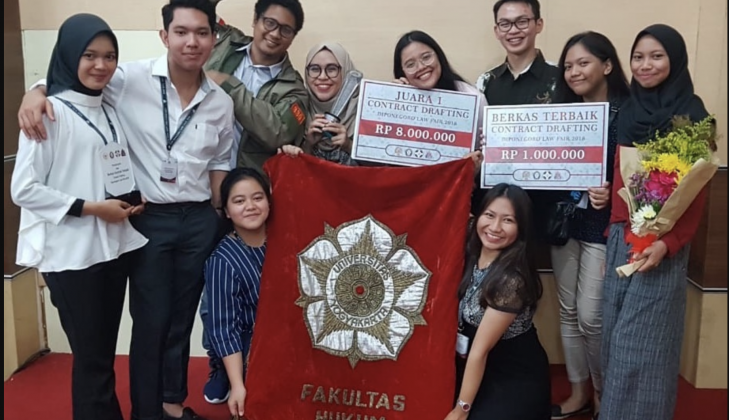 The Gustav Kirchoff team of Faculty of Law Universitas Gadjah Mada has been the champion and won Best Contract title during Contract Drafting Diponegoro Law Fair 2018, organised by Universitas Diponegoro and People's Consultative Assembly from 26-28 October 2018.
The team consisting of Meitha Ayu Kusumadewi, Wahida Sophie Hidayanti, Mahardika Dewi Mentari, Hanabeni Desta, Mhd. Ikram Alfansa, and Ajeng Raisa Aghnia have undergone a series of competition phases before winning the competition.
The team is under the Business Law Community (BLC) of the Faculty and the guidance of Taufiq El Rahman, S.H., M.Hum., trainer, Desy Indriani Grace Sinaga, and official, Larasati Sukma Aryanti Putri
"The team has been formed in August 2018, thereafter we regularly do research and practise to draft a contract. In the competition, we made the main contract of Power Purchase Agreement between PT PLN (Persero) and Independent Power Producer enclosed with annex and addendum. So, beside having strong legal basis, we ought to know electricity and business aspects," said delegation chairperson, Meitha Ayu Kusumadewi, on Tuesday (30/10).
Meitha added after submitting the contract, the team went through to the grand final. Here they ought to practise a negotiation simulation related to the contract. The Gustav Kirchoff team also won the Best Contract award.
"We would like to thank Faculty of Law UGM, lecturers, trainers, seniors, alumni, and all that has supported us so we can be the best and make UGM proud by becoming the winners. Viva Justicia!" said member of the team, Ikram Alfansa.