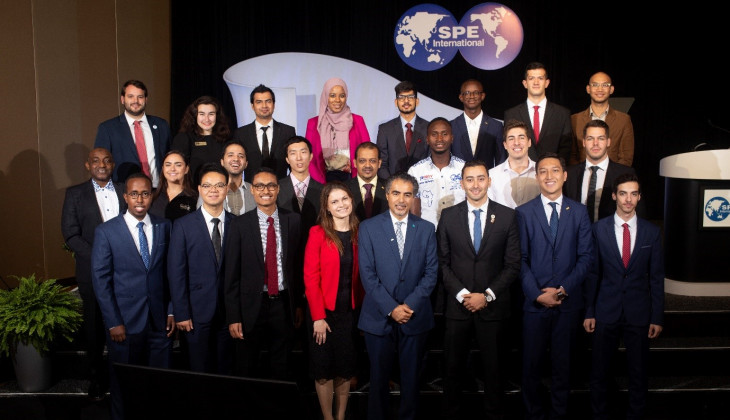 Society of Petroleum Engineers Universitas Gadjah Mada – Student Chapter (SPE UGM-SC) under the auspices of Society of Petroleum Engineers (SPE) International and Society of Petroleum Engineers Java Section has been determined as one of recipients of Outstanding Student Chapter (OSC) Award 2018, along with 22 other SPE Student Chapters. The award is the highest recognition granted by SPE International to student chapters around the world based on the best performance.
"The SPE International used parameters of assessment such as industry engagement, community involvement, operations and planning, professional development, and innovation," said Fauzy Habibie Akhyar, president of SPE UGM-SC for 2017/2018, at UGM on Wednesday (21/11).
Fauzy expressed appreciation for the prestigious achievement which is the result of the hard work of all Board of Directors, Head of Divisions, and staff that had maximised each opportunity available. SPE UGM-SC had done evaluation on their performance since the beginning.
"We try to sustain what's going well and making changes to several segments that are not optimum. Our focus is to build a work environment with professional system," he said.
One of the innovations was increasing young professional development programme to enhance the capacity of the members of SPE UGM-SC in dealing with the competition entering the oil and gas industry. This includes joint research with related institutions, guest lectures, and soft-skills workshop.The innovation can be seen in the Gadjah Mada Cheetah team competition and training center.
Leny Kristianti, Chemical Engineering 2017 student who is External Relations Representative, added that joining the ATCE 2018 was a valuable experience. They had training as well as opportunities to meet 8,100 participants who are student chapters representatives, practitioners in oil and gas industry and academics from around the world. Leny said she earned new insights from the event that can be passed on to her fellow students.
"I highly hope that this achievement can be the booster for confidence and motivation for all our fellow students at SPE UGM-SC to always play a role at the world level," she said.
Other achievements of the group was winning Shell Ideas 360 in London as well as other competitions in China, Malaysia, and Indonesia.
"This proved that we can all compete at the global level. Hopefully, this can motivate us all," said Leny.
The OSC 2018 during the SPE International - Annual Technical Conference & Exhibition (ATCE) 2018 event was organised in Dallas, Texas, US. For SPE UGM-SC, year 2018 saw their second OSC award after the first one earned in 2015.