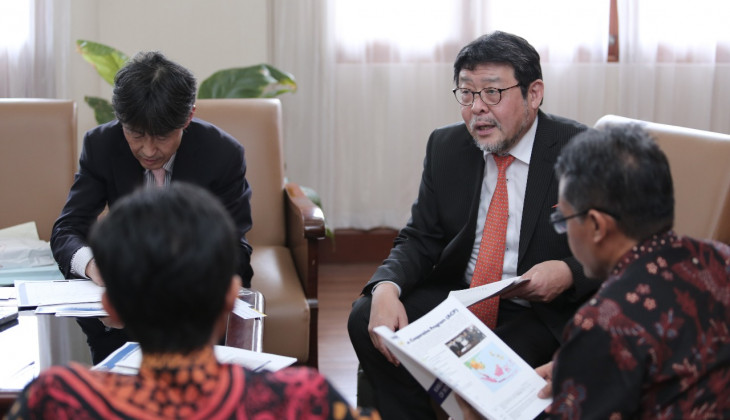 UGM Rector received a visit made by president and director of Kansai University of International Studies(KUIS) on Thursday(10/1) at UGM Main Office.
In the meeting both parties talked about opportunities for academic cooperation, especially in disaster prevention and mitigation.
"UGM is a leading university that has plenty of research and experience in natural disaster matters, hence we wish to establish cooperation with UGM," said President of KUIS, Atsushi Hamana.
One of scientific developments in disaster mitigation, he said, can be done through Asian Cooperative Program initiated by KUIS along with 14 Southeast Asian universities, including UGM, in 2014. It aimed to build global networks to create individuals to deal with Asia's development.
"ACP deals with social issues impacted by natural disasters. Safety management has become a significant matter to Southeast Asia that is currently experiencing extraordinary economic development," said Hamana.
He described the consortium would host annual conference and other academic programme that can be followed by students and researchers to renew their knowledge in disaster issues as well as conducting joint research.
One of the efforts to be done in the near future, said Hamana, was to produce disaster response materials for primary and secondary school students, because the knowledge of disaster response is crucial to have to minimise the number of casualties.
He hoped UGM and KUIS would soon enhance the cooperation in that area as well as opening other opportunities, such as lecturer and student exchange.
"We have study programme specifically focused on disaster mitigation, so this cooperation is very possible to have. I hope it can bring good outcomes for us all," said Rector of UGM, Prof. Ir. Panut Mulyono, M.Eng., D.Eng.
Furthermore, UGM and KUIS discussed the agenda of ACP, including annual conference that will take place at KUIS this year. UGM later announced its willingness to act as host of future ACP conference.