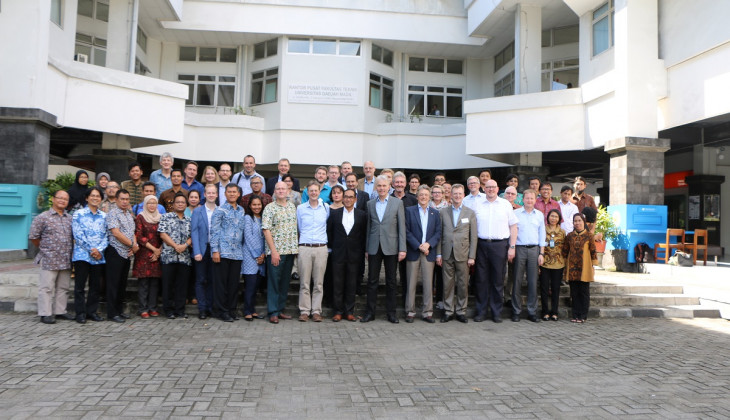 As many as 27 delegates from Federal Ministry of Education and Research (BMBF) Germany visited Geology Engineering Department UGM on Friday (18/1). They were consisting of BMBF representatives, project management agencies, and experts.
The visit was part of a Fact Finding Mission for assessment of research collaboration themed Resource Efficiency/Circular EconomyandGeo/Natural Hazards. A workshop was later conducted which was divided into 2 clusters, Resource Efficiency/Circular Economy and Geo/Natural Hazards.
The Resource Recovery and Circular Economy was divided into two sub-groups, Circular Economy (Recycling) and Resource Recovery groups. The Recycling sub-group would conduct research in urban mine, particularly related to electronic waste and metal-nonmetal separation and recovery of valuable metal. While resource recovery sub-group which was presented by Geothermal Research Center and Mineral Resource group UGM would be on recovery of valuable metals from geothermal brine and geothermal sludge as well as process improvement in lateritic nickel extraction.
Meanwhile, the Natural Hazards sub-group would conduct research in early warning in multi-hazards, cascading disasters, tracking sources of hazards, risk communication to enhance DRR and strengthening capacity. The focus would be on earthquake and volcanic activities/eruption, tsunami, land and submarine landslides, and/or mount flank collapse.
These topics stemmed from the natural disasters occurrences that hit Lombok, Palu, Banten, and Mt. Merapi volcanic activities. Both parties will later draft an agreement to follow up.
UGM Vice-Rector for Cooperation and Alumni, Dr. Paripurna, S.H., M.Hum., LL.M., opening the event appreciated the visit made by the German delegates. He hoped the collaboration would run well. "I hope the best can be achieved from this visit," he concluded.