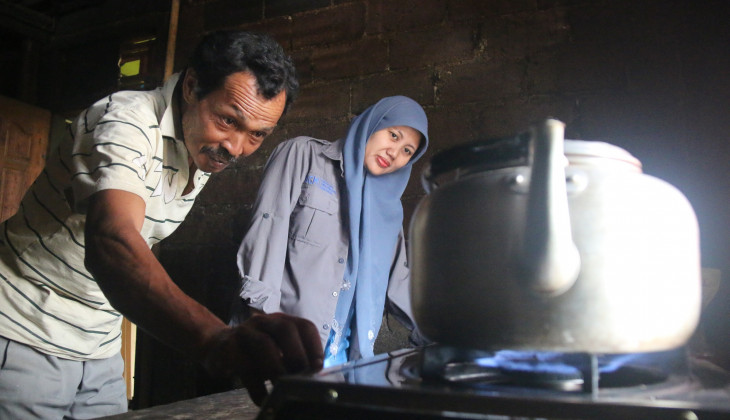 Sugi (49) chairman of Mekar Sari farmer group from Leksana village in Karangkobar district, Banjarnegara city, Central Java, has since September 2018 installed a biogas unit from UGM's Agricultural Engineering and Biosystem Department in a programme to introduce biodigester technology to farmers.
Most of the residents in the village grow vegetables for a living and raise cows and goats. During this time, they left the cattle droppings around the house to dry and later these would be made into compost for their farms.
But since the introduction of the biodigester technology by UGM, Sugi said the biodigester helped him a great deal because he no longer has to buy gas for the household to turn on the stove. He said the biogas stove was used for cooking their daily meals.
Sugi made a waste tank in the cage of the cow to collect the dung. The tank is filled with water to mix with the dung. Sugi said the tank can contain 2,000 litres of dung and water that can meet the need of biogas for ten days. In his barely half a hectare farm, Sugi grows vegetables and coffee beans from which he earned his income. At certain times, however, the price of cabbage and chilli would drop. Even despite this shortcomings, he felt happy to have cows that he can sell if need be.
Currently, it is only his family that has installed the biogas unit. He hoped other households would have the same so that they can make use of the cattle droppings. "Each of us have cattle, so we need to make use of their waste for the biogas," he said.
Lecturer and researcher from UGM, Dr. Ngadisih, said the introduction of energy independent household was part of community economic empowerment in disaster prone areas. The hillsides of Karangkobar, said Asih, was prone to landsliding. She said agricultural activities on the hillsides often cause the risks of flood and landslide.
In addition, Asih said the cattle waste had not been much used by the community but only left around the house, which caused pollution. "We want to educate the community how to make us of the agricultural waste to make biogas, and the remains of the biogas will be turned into fertilisers," she said.
Asid said 90 percent of Leksana village raised cattle which is potential for biogas energy development. The first project of this at Sugi's house is a pilot project for independent energy provision. While on disaster mitigation, she conducted research and community empowerment by monitoring hydrology response of land use, run-off and erosion, ground and water conservation techniques as well as social and economic development of the community.