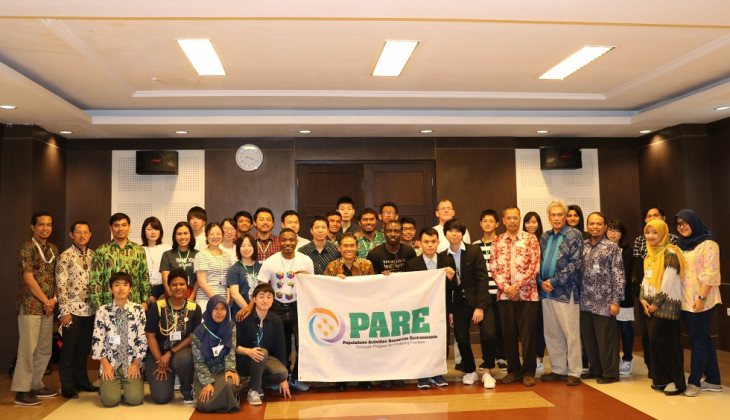 UGM hosted Population-Activities-Resources-Environment (PARE) Spring School 2019 from 15-25 February.
As many as 29 students came from five universities in Japan, Thailand, and Indonesia which are Hokkaido University, Kasetsart University, SIIT-Thammasat University, ITB, and UGM. For 11 days they attended workshops to learn and discuss crucial issues related to environment, resources, and population.
Rector of UGM, Prof.Ir. Panut Mulyono, M.Eng., D.Eng., in his remarks appreciated the students joining the PARE Spring School 2019. Panut said it was an honour for UGM to host PARE Spring School 2019.
PARE Spring School is an educational programme funded by Japanese Education Ministry. It is run by Hokkaido University in cooperation with 6 ASEAN universities, namely UGM, ITB, IPB, Kasetsart University, Thammasat University, and Chulalongkorn University.
"There are 29 graduate students from 10 countries learning in Japanese, Thai, and Indonesian universities that join PARE Spring School at UGM," he said when opening the event on Friday (15/2) at University Club UGM.
Panut hoped with this programme the students could share ideas and find solutions to resolving existing problems, especially related to environment.
The students would take part in public lectures given by experts from Hokkaido University, ITB, UGM, Chulalongkorn University, and BPPTKG. They would also learn on the field and collect data from Progo and Gajah Wong rivers to observe the river water quality.
Next the participants would visit Bribin Cave to see firsthand how to elevate water from the underground river. Next they would visit farmers in Berbah, Mangrove forest in Kulon Progo, Taman Sari, and Borobudur Temple.