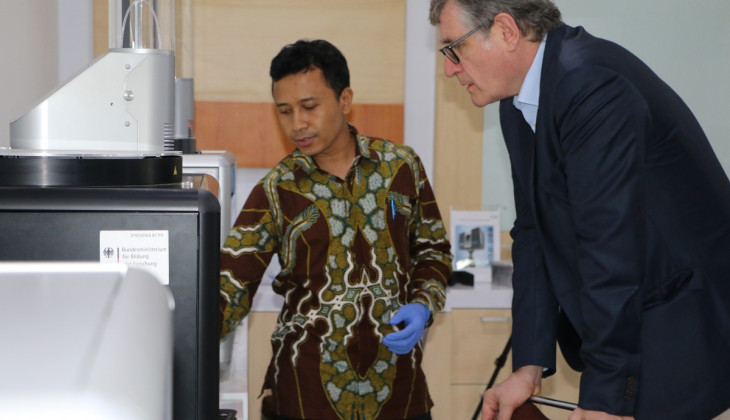 German Ambassador, Dr. Peter Schoof, visited Geology Engineering Department on Friday (15/2), accompanied by Dr. Svann Langguth, Head of Science and Technology Division at the German Embassy.
Dr. Doni Prakasa Eka Putra, Geology Engineering Department Secretary, said the visit by the Ambassador was to see GetIn-CICERO (German Indonesian Geo-Campus in Indonesia for Competence in Education and Research for Organizations) laboratory which is their collaboration with RWTH Aachen University, funded by BMBF.
"Ambassador Schoof briefly saw the sophisticated equipment to analyse research samples," Doni said in a release sent on Tuesday (19/2).
Doni explained 4 clusters owned by GetIn-CICERO programme, namely Cluster Environment and Water; Cluster Sustainable Geo-Resources; Cluster Geohazards and Coastal Risks; and Cluster Energy and Raw Material Efficiency.
Dr. Sugeng Sapto Surjono, Vice Dean of Faculty of Engineering UGM, explained the importance of the tool for research. He said Dr. Schoof enthusiastically listened to the descriptions. He also appreciated the plan to conduct an international workshop and research engaging researchers from RWTH Aachen University in April.