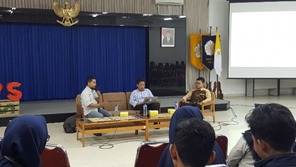 Faculty of Engineering UGM celebrated the 73rd Engineering Higher Education Day on Friday (22/2). There were events to mark the day like Herman Johanes Award, installment of Lean Manufacturing and Lean Production System laboratories, and Talkshows.
Themed Roles of Engineering Academics of UGM in Realising Indonesia as Main Player in Industry 4.0, the Talkshow invited resource persons: Ir. Airlangga Hartarto, M.B.A., M.M.T., (Industry Minister) and Ir. Budi Karya Sumadi (Transportation Minister) who are UGM Engineering alumni.
Minister Budi in his presentation said that Indonesian young generation had made plenty of innovations. He said these would be an important asset to face Industry 4.0 era. For the government, he said, it was how they – along with corporations- would facilitate these fresh ideas. "We hope corporations that have their own industrial basis can increase their capacity to accommodate these innovations," he said.
Minister Airlangga shared this view, saying that the government currently was developing local industry. He said industry such as food and textile had improved compared to their counterparts in neighbouring countries. Automotive was the country's another reliable industry.
Minister Airlangga said the government was striving to promote local brand industries to compete with other global brands. "This high value industry will ensure the income of the workers, who will be in the hands of our young generation," he concluded.