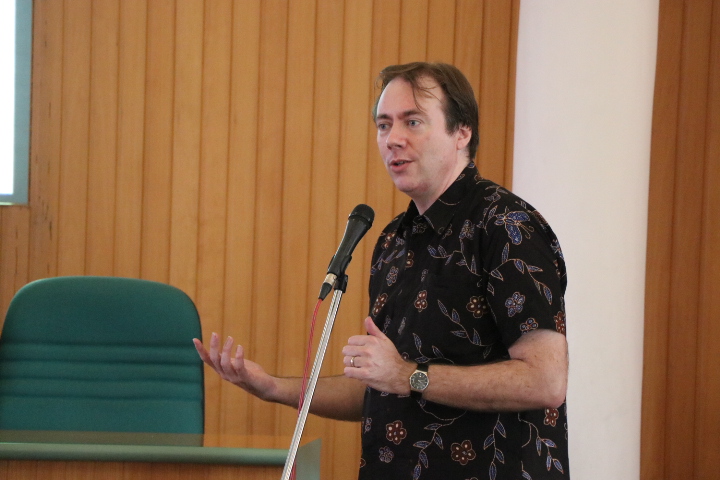 Violence based on religious extremism still poses a threat to countries around the world, including Kenya, Nigeria, and Indonesia.
This was discussed in a seminar themed Securing the local: the role of non-state security groups (NSSGs) in combating against violent-extremism in Kenya, Nigeria and Indonesia held on Tuesday (26/3) at UGM Main Office.
"Extremism is still concerning until today. The conflict has even get more complicated in various aspects," said Laurens Bakker PhD, researcher from University of Amsterdam.
The Seminar was done by Centre for Security and Peace Studies (PSKP) UGM in cooperation with Amsterdam Institute for Social Science Research (AISSR) Universiteit van Amsterdam (UvA) to understand those activities in relations to the role of state and non-state actors at different levels.
Laurens discussed his research to explore the roles played by non-state security groups in Indonesia, Nigeria, and Kenya, especially in religious extremism context.
"The extreme groups present themselves as one that does virtue, showing their care towards society," he said. The research revealed that the popularity of an extremist group was usually limited to a certain area or ethnic group, not the wider community in the country.
Another researcher from University of Amsterdam, Karim, discussed his research Santri's violent and non-violent securitization way in combating violent- extremism: The case of GP Ansor and Jamaah Maiyah, which discussed securitisation by two groups, Banser and Jamaah Maiyah. Karim compared narratives of the two groups which relate with their main stance, attitude toward jihad value, movement reference, intellectual abstraction and nationalism principle.
"The setting of Banser security through paramilitary system and new approach of Jamaah Maiyah and imagination of parastate security formulation are just two examples of the many groups that also explore different dimensions of security in the scope of Bhineka Tunggal Ika," he said.
The seminar also presented researchers from organisations such as Dete Alijah, MA from Yayasan Prasasti Perdamaian who talked about The role of women in Deradicalization in Indonesia and researcher from UGM, M. Najib Azca, Ph.D., who talked about his research themed From Combatant to Democratic Engagement: Narratives from Poso, Central Sulawesi.