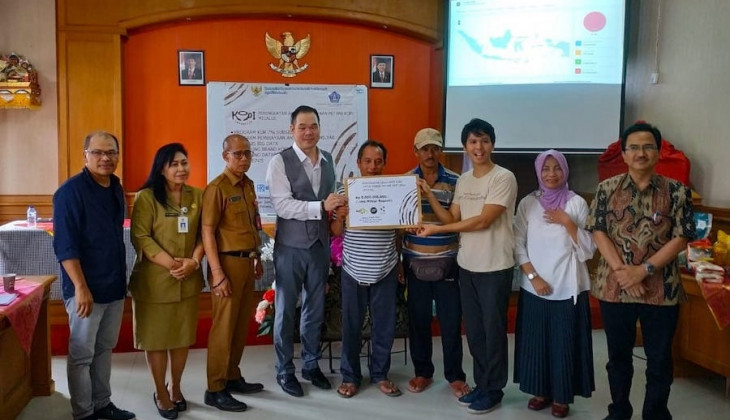 Agricultural and Biosystems Engineering Department of Faculty of Agricultural Technology UGM has developed Smart Coffee Enterprise Support System (SCESS) in order to support coffee SMEs in Pelaga village, Badung regency, Bali.
The big data application development was done through a cooperation with Cooperatives and Small and Medium Enterprises Ministry to develop Smart Coffee Enterprise Support System (SCESS). The application was launched on 9 April 2019 along with an event to enhance the skills of coffee farmers in Pelaga, Bali.
Attending the event were developers of the system, Prof. Lilik Soetiarso and Dr. Andri Prima Nugroho. Lilik said the cooperation between UGM and the Ministry in the development of Smart Enterprise Support System for Coffee Agroindustry became a long term research agenda, particularly in establishing centres of excellence in smart agriculture.
"This cooperation is an important agenda while trying to establish centers of excellence in smart agricultural system," he said in a release sent on Tuesday (16/4).
Lilik said in the launching Deputy Minister for Financing as well as patron of national cooperatives, Ir. Yuana Sutyowati, MM., appreciated the UGM Department that had collaborated with them in developing the support systems for the coffee SMEs.
The statement was shared by Chairman of National Cooperatives, Reza Fabianus, M.Sc. He thanked UGM in developing the embryo of SCESS and hoped the adoption of the system would increase the farmer welfare.
Meanwhile, Andri Prima added the embryo of SCESS was database system for updating farmer's details by name by address as the basis toward enterprise system as a support for government decision making. Events that are recorded include farmer data, land ownership, administration and management of credit for people's business, cultivation and post-harvest activities. SCESS architecture design was developed by orienting towards knowledge management system.