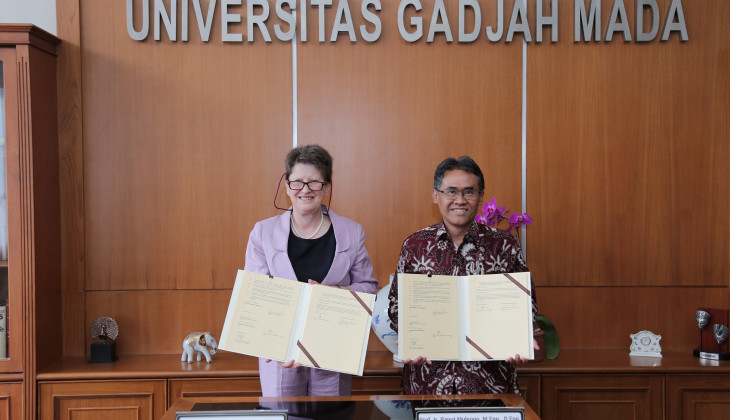 After an MoU done in 2015 in academic matters, the University of Warwick, UK signed a Memorandum of Agreement (MoA) with Universitas Gadjah Mada in dual degree programme. The MoA of dual degree programme M.Sc Tunneling and Underground Space was signed by Prof. Christine Ennew and Prof. Ir. Panut Mulyono, M.Eng., D.Eng, at UGM on Tuesday (30/4).
The dual degree Tunneling and Underground Space programme is a one year master programme to be done at Geology Department Faculty of Engineering UGM and at University of Warwick. This is expected to complete the cooperation done previously in 2015 in education, research, and student exchange.
Christine Ennew hoped the agreement between University of Warwick and UGM would strengthen cooperation in other areas, including Student Community Service, with UGM.
According to Ennew, the Student Community Service was unique and rare, hence, she would want to explore it further.
"Maybe in the future there can be a cooperation in Student Community Service with Warwick students going to UGM," she said.
Besides, University of Warwick is interested to assess disaster management cooperation because University of Warwick also develops humanitarian engineering science.
"It is like when UGM doing Student Community Service in Lombok and Palu. For us that's interesting to explore between Warwick and UGM," said Ennew.
Panut Mulyono supported that this cooperation could be one step towards more cooperation in other disciplines. It is time for both universities to strengthen international education programme cooperation, he said.