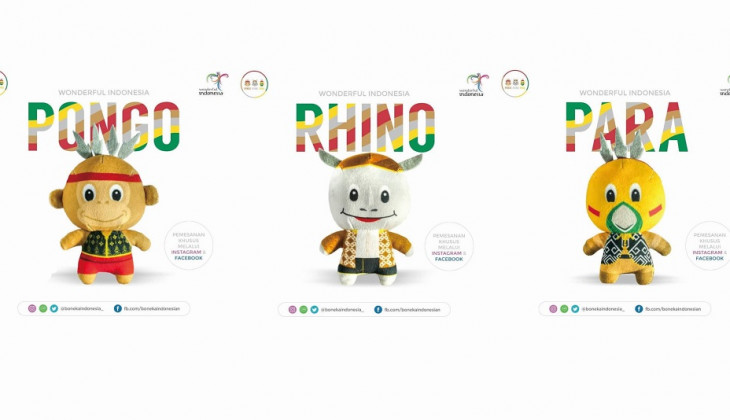 UGM students have produced a Wonderful Indonesia mascot to withdraw the attention of tourists to visit tourism destinations in the country.
The mascot comes in three characters, Pongo, Rhino, and Para, which represent Indonesia's rare species. Pongo is a Sumatran orangutan (Pongo abelii) and Kalimantan orangutan (Pongo pygmaeus). Rhino represents Rhinoceros sondaicus while Para represents Paradisaedae (birds-of-paradise).
"The idea to make the mascot was inspired by the mascots of Asian Games 2018. The Bhin Bhin, Atung, and Kaka dolls were very much sought after and the sales had surpassed the target," said Rika Absoni on Sunday (6/5) at UGM.
This Economics and Business student and fellow students, M. Dhiyah Ulhaq, Almira Putri R.D, and Yoanes Adjie K took the initiative to promote the national tourism through these dolls. In the student creativity programme for entrepreneurship, the students started to produce the dolls.
The mascot comes with information tag that is attached to the arm, containing tourism destination information. They wear different batik motifs which are of Siak Sumatra in Pongo, Javanese in Rhino, and Asmat Papua in Para. At the back of the head, images of tourism destination and Wonderful Indonesia are attached.
"The Pongo character carries the picture of Tesso Nillo area, Rhino Borobudur Temple while Para Raja Ampat," she explained.
She added they had collaborated with the producers of the Asian Games 2018 mascots to produce these characters. On marketing, the students do it offline as well as online through social media and online marketplace such as Tokopedia, Shopee, Bukalapak, Lazada, Blibli, and Zalora.
These mascots are the first education tool of Indonesia's tourism that describes natural sceneries, diverse cultures, and tourism excellence of Indonesia.