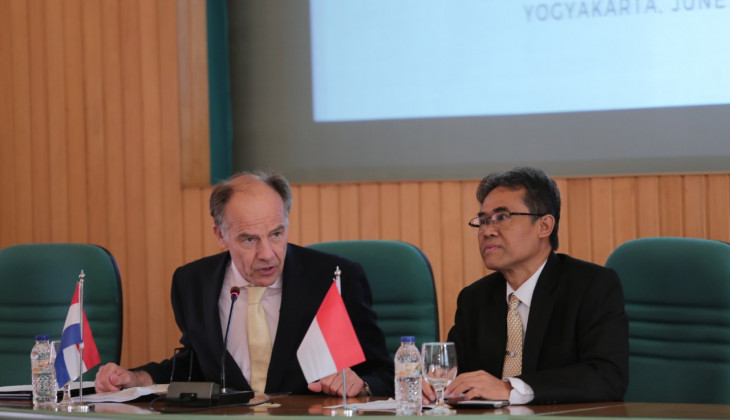 Rector of Universitas Gadjah Mada (UGM), Prof. Ir. Panut Mulyono, M.Eng., D.Eng., signed a Memorandum of Understanding between UGM and University of Leiden on Thursday (27/6) at UGM Main Office.
The MoU enhanced the cooperation relations between the two institutions that has lasted a long time.
President of University of Leiden, Carel Stolker, appreciated UGM that welcomed the cooperation that had run previously and planned collaborations in the future.
Rector of UGM shared the opinion, saying the relations between UGM and University of Leiden were not only built from the collaboration but also from UGM alumni currently working at UGM.
"Many of Indonesian best students continued their education at Leiden, so currently many of our professors and senior lecturers came from there," he said.
Panut said UGM and Leiden had become equal partners that supported each other in various disciplines. Besides the ongoing research collaborations, he hoped in the next few years there would be more recent research that can be worked on together to give solutions to problems among society.
"I think research initiatives regarding smart city and digital society are potential to be developed through collaboration between the two institutions," he added.
Vice-Rector for Research and Community Service, drg. Ika Dewi Ana, M.Kes., Ph.D., in the meeting described the research being done by UGM, and how the research had made impact to society. For example, downstreaming of health tools can indeed replace some tools that previously needed to be imported, which is reducing the costs.
In a discussion after the agreement signing, Leiden representatives expressed their interest in the programme done by UGM, including Student Community Service.
Ika said this programme was a realisation of UGM identity as the university of the people. She stated that collaboration opportunities in community service were open for all partners, including Leiden.
"Every year we sent around 7 thousand students to every part of Indonesia. I think it's possible if we have collaboration in this area because the impact is huge for society," Ika explained.