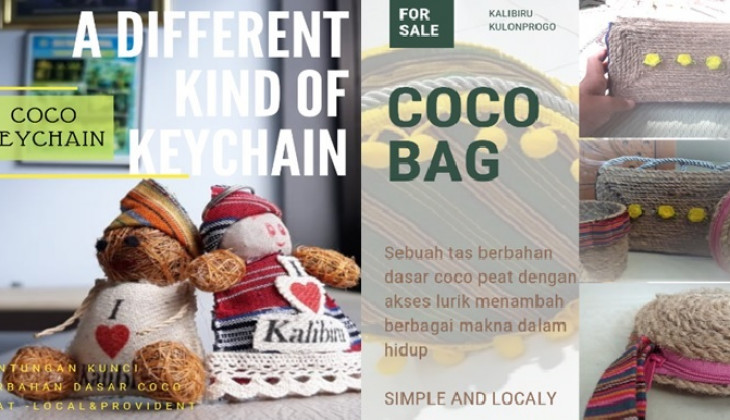 A group of UGM students made the waste of coconut fibre into valuable handicraft.
The abundant potential of coconut of Kalibiru village in Kulon Progo regency, Yogyakarta, has sparked an idea among these students. The yard of each of the residents has between 8 - 20 coconut trees in it that can produce as many as 400 fruit in one harvest time. They wanted to utilise the waste of the coconut that has not been much used.
"Most of the waste of fibre of coconut shell is dumped or burnt," said Mega Putri Pranatasari, UGM student on Thursday (4/7) on campus.
Together with fellow students Akhmad Khanif, Yola Ninda Dwi Woro Dyah Sehnur, Arkan Syafera, and Nailia Ziyada Rahma, the students conducted community empowerment for the Student Creativity Programme in the village. They trained the residents on processing the waste into coco fiber as the basic material for handicraft.
"We also give them training in packaging, marketing, and book-keeping," she said.
There are a number of handicraft they have produced, but the three products of excellence are Coco-Lurik Bag, Coco-Lurik Keychain, and Coco-Lurik Aromatherapy Doll.
"The three products make use of coconut fibre and lurik cloth to decorate them. This is also a way of sustaining the culture," said Akhmad.
He hoped the project to optimise the use of coconut waste and tourism potential development of the village would improve the welfare of the residents.