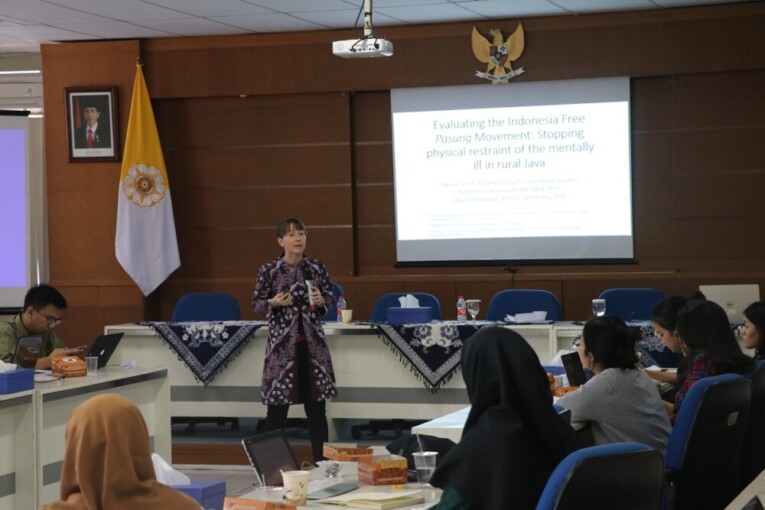 Health Ministry research in 2018 showed that the prevalence of mental disorder in Indonesia has increased significantly from 1.7 percent in 2013 to 7 percent in 2018. Promotion of health literacy, therefore, needs to be improved to minimise the prevalence.
To achieve this goal, Center for Public Mental Health (CPMH) UGM organised Public Mental Health Weeks (PMHW) 2019 in July 2019. Events organised during the week include International Convention on Common Mental Disorders from 6-7 July 2019 that presented speakers: A/Prof Grant Blashki, Prof. Theo Bouman, and Aliza Hunt (Ph.D cand.). Following is the 3rd International Summer Course on Advocacy Skills in Mental Health System Development: From Research to Policy that will run from 8-13 July 2019 and invite experts in mental health from various universities and countries: Prof. Harry Minas, Prof. Byron Good, Prof. Theo Bouman, Dr. John DeFrain, Dr. Diana Setiyawati, and Aliza Hunt.
The event will be closed with the International Convention on Family Strengthening from 16-17 July 2019 to educate family resilience and promote the family as part of the community to address mental health issues.This will present expert Dr. John DeFrain. Participants of the week include researchers, scientists, policy makers, practitioners, professionals, and members of society.
Dr. Diana Setiawati P, M.Hsc.Psy, Ph.D, Director of CPMH UGM, said the event was an advocacy for the development of mental health resilience system. Diana said mental health corresponds to many things. She said CPMH UGM would continue to advocate the issue.
"We will continue with the advocacy. We will also promote UGM as a health promoting university. Through this event we want to create activists that promote mental health through research, training, and publications. The goal is to achieve a healthy Indonesia both physically and mentally," she concluded.