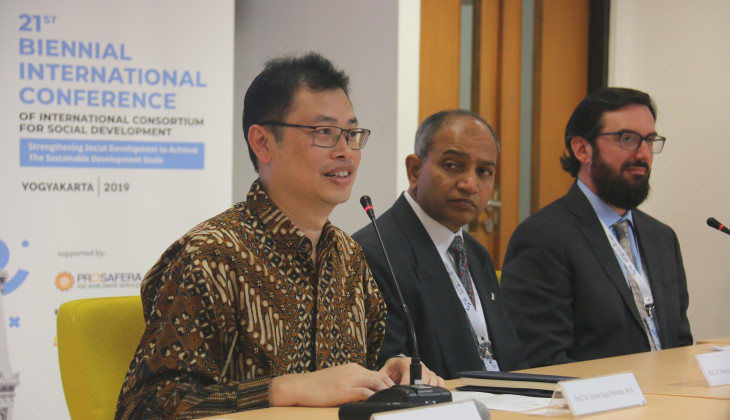 As many as 250 social development experts from 28 states will share their ideas and experience in the concept of social development enhancement to support SDGs.
The 21st Biennial International Conference with the social development enhancement theme was initiated by Social Development and Welfare Department UGM. It will run from 15-19 July at UGM.
Dean of Faculty of Social and Political Sciences UGM, Dr. Erwan Agus Purwanto, hoped the meeting would bring real benefits to developing countries around the world, including Indonesia. "We hope there would emerge ideas and concept of human and social development which is in line with those launched by President Joko Widodo to achieve in the next five years. Recommendation from the event is, therefore, highly anticipated," Erwan told journalists on Monday (15/7) at the Dean's Room of the Faculty.
Prof. Dr. Manohar Pawar, President of International Conference for Social Development (ICSD) from Charles Sturt University, Australia, said the ICSD had existed since 50 years ago. It has been studying social development concepts. "The main goal of the consortium is to raise awareness on the importance of social development enhancement around the world," he said.
Researchers from Arizona State University, US, Prof. David Androff, said the 21st conference focused on social development of global communities and to promote equality and social justice. "We want to enhance social development support, equality, gender, and human rights," he said.
Following the event, Manohar Pawar responded to journalists on the social gap emerging in Indonesia and other developing countries. He said the government social development had gone on the right track according to the social development concept. To reduce the gap, Erwan Agus Purwanto said economic approach did not have to be done through conglomeration like in Japan and South Korea. Because in the digitalisation era, Indonesia has already strengthened digital literacy as seen in the arrival of new startups that can generate the economy for the many. "This opportunity can be used to the maximum for human resource development," he said.