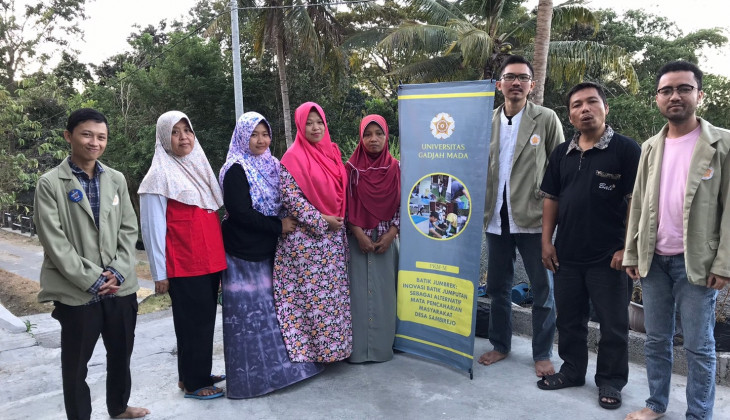 Indonesia is adorned with beautiful natural panorama that can serve as an attractive tourism destination. Each of these destinations has its own unique traits that attract tourists and this can generate new sources of income in order to propel economic welfare.
One of those destinations is Breksi cliff at Sambirejo village in Prambanan district, Sleman regency. It boasts on the unique appearance of ancient stones and beautiful sceneries.
Indeed, the Breksi cliff is a new tourism spot in Yogyakarta. Each day there are over 1,000 tourists coming here from Monday to Friday and the figure would exceed to 5,000 on weekends.
It comes as no surprise that some local people would make this thing a source of earnings to support their economies. The thing they do, however, is limited to selling food and souvenirs while in fact they have another potential to be developed, which is tie-dye batik.
Starting from this concern, five UGM students in Student Creativity Programme 2019 funded by Higher Education Ministry tried to explore this potential further. The students, Habil Abdillah, M. Nashirul Haq, Nadia Ayu Setiyaningbudi, Bagaskara Wahyu Purnomo P, and Robby Rizal promoted the potential through a production and management workshop. The local people learned how to produce tote bags, shawls, and shirts from tie-dye batik. The workshop ran in May and in June the students ran another workshop for women to learn accounting. Supervised by lecturer Agus Hendratno, S.T., M.T, the students will continue the workshop in July on managerial organisation.
The outcomes of the project are expected to make the tie-dye batik of Sambirejo village a souvenir icon of Breksi cliff tourism, and thus improving the welfare of the local community.