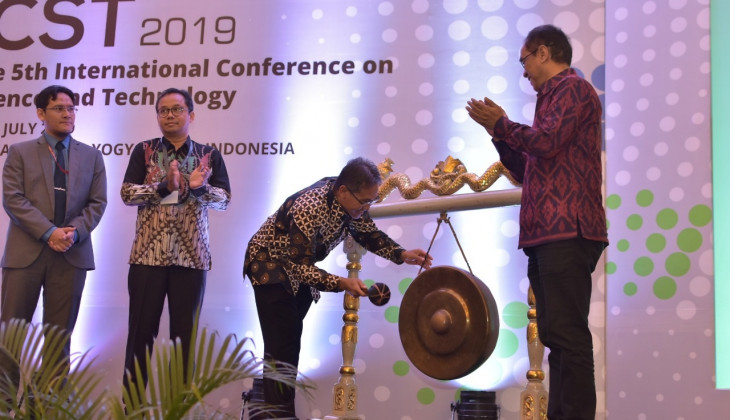 UGM Publishing House (BPP) organised the 5th International Conference on Science and Technology (ICST) from 30-31 July 2019 in Eastparc Hotel, Yogyakarta. ICST is a series of annual scientific conference or UASC (UGM Annual Scientific Conference) as a platform for researchers to present their research in science and technology. The event is part of UGM's 14th Lustrum.
This year ICST presented keynote speakers from a number of countries such as Prof. Franck Lavigne (Université Paris 1 Panthéon-Sorbonne), Prof. Johan Debayle (Institute Mines-Telecom, France), Prof. Kang Hyun Jo (University of Ulsan, Korea), Prof. Rohana Adnan (Universiti Sains, Malaysia), and Prof. Satoshi Muraki (Kyushu University, Japan).
As many as 319 researchers will present their work in addition to 22 non-presenters. They hail from 17 countries such as Australia, China, Egypt, France, Germany, India, Indonesia, Iraq, Japan, Korea, Malaysia, Pakistan, Saudi Arabia, South Africa, Syria, Taiwan, and the USA.
There are 4 symposiums being held during the ICST 2019 on themes: Computer and Information Technology; Electronics, Communication, Control, and Instrumentation; Environmental and Earth Science; Life Science, Materials, and Applied Chemistry; Mechanical and Industrial Engineering; Power and Energy; and Remote Sensing and Geomatics.
The output of the conference will be published in indexed journals and proceedings that have teamed up with ICST 2019, including IEEE Conference Proceeding, Materials Science Forum by TransTech Publication, IOP Conference Proceeding, and ASEAN Journal on Science and Technology for Development.
The conference is expected to boost the number of UGM works in international publications and attract enthusiasm in science and technology research.
Rector of UGM, Prof. Ir. Panut Mulyono, M.Eng., D.Eng., opening the event on Tuesday (30/7), said the ICST played a significant roles in raising research that impacts society. He added the conference would serve as a bridge between various disciplines to make innovation, research, and ideas on current sciences.
Panut expected the ICST would expand in scale in the future for researchers to share their findings. "So far the ICST has built international collaborations, establishing networks to give real impact to society, and increasing the number of works in international publications by Indonesian researchers. I hope the conference would sustain in the future," he concluded.