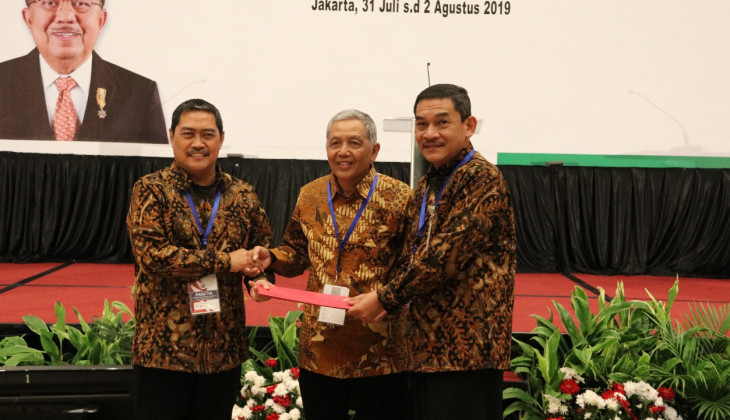 UGM is named the formulating team during a National Coordination Meeting on Transmigration 2019 on Thursday (1/8) in Hotel Sultan Jakarta.
The meeting that brought together ministries, government agencies, institutions, academics, and private sector discussed development plans of transmigration areas. Members of the multi-disciplinary team include Prof. Dr. Suratman, M.Sc, Prof. Dr. R. Rijanta, M.Sc., Dr. Djaka Marwasta, M.Sc., Dr. Sri Rum Giyarsih, M.Si., Dr. Sri Rahayu Budiani, M.Si., Surani Hasanati, S.Si, M.Sc., and Seri Ariyati, S.Pd., M.Sc.
"Transmigration is a programme that has long been part of the efforts to advance the nation. Transmigration has dynamic paradigm that is changing with the times," said Vice-President Jusuf Kalla, opening the meeting.
He explained transmigration aimed at making the people prosperous and to make regions equally prosperous.
Minister of Village, Development of Disadvantaged Regions, and Transmigration, Eko Putro Sandjojo, said over 2 million households and 8 million people had been relocated from Java and Bali to other less densely populated islands. Hence, the impact of transmigration programme is real in those provinces.
The concept of Transmigration 4.0 Smart Transmigration City initiated by UGM and Transmigration Ministry covers areas of trans-settlement, integrated agro-compound, technopark, small and medium industries, and other facilities and infrastructures.
The penta-helix collaboration between government, private, academics, community, and the media is a form of implementation of people's economy. Such partnership opens opportunities for private companies to adopt the concept of green transpolitan 4.0 so that the transpolitan area can accelerate economic growth.
To ensure the success of transpolitan innovation, Geography UGM and the Ministry proposed TransScience Technopark.