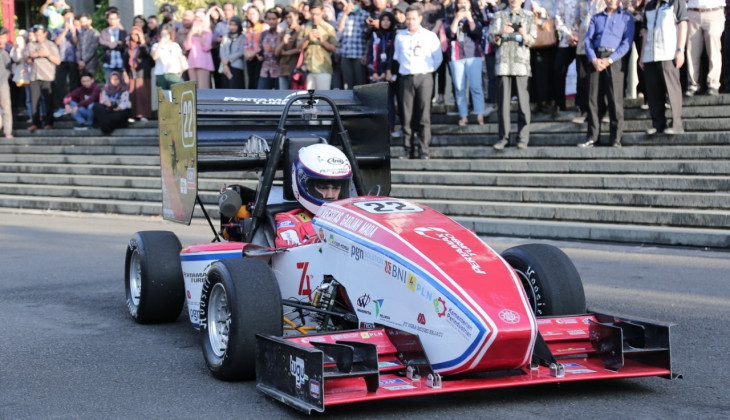 Bimasakti Racing Team UGM is ready to take part again in the prestigious Student Formula SAE Japan.
The team will carry Bimasakti car generation 8 (BM-8) to the competition after it won in the past competition in 2018.
"The team has made a car that is lighter, swift, aerodynamic and ergonomic. We apply the ergonomics principle in the cockpit to enable vehicle controlling," said Muhammad Kamal Ardi Putra, team chairman.
The Mechanical Engineering student said planning and preparations had been made since last year. In April 2018 the BM-8 was finally assembled. Next, they did a test drive.
"By focusing on the machine development, we are convinced that BM-8 car is better and the team's performance will improve from before," he said.
Bimasakti Racing Team was established on 26 November 2010 and was the first team from Indonesia that joined the Student Formula SAE. The Student Formula SAE is a competition of formula car construction and design for students, organised by Society of Automotive Engineers (SAE) international.
In 2018, Bimasakti Racing Team UGM made a fantastic achievement in the competition by earning the third Business Presentation Event and JAMA CHAIRMAN AWARD. JAMA Chairman Award is presented to teams that pass all series of competitions without penalties, starting from registration, document submission, or technical inspection.
Other achievements of Bimasakti include 1st Place Endurance Event from Southeast Asia, 10th Place Skidpad Event, and 26th Overall Rank of 2018 Student Formula Japan.
"Upholding values, spirit and with the support from everyone, Bimasakti Racing Team UGM will continue to make innovation, trying to be the best team and make the country proud," said Kamal.
UGM Vice-Rector of Education, Teaching, and Student Affairs, Prof. Dr. Ir. Djagal Wiseso Marseno, M.Agr, gave his support to the team. He asked the students to focus on the competition and do their best.