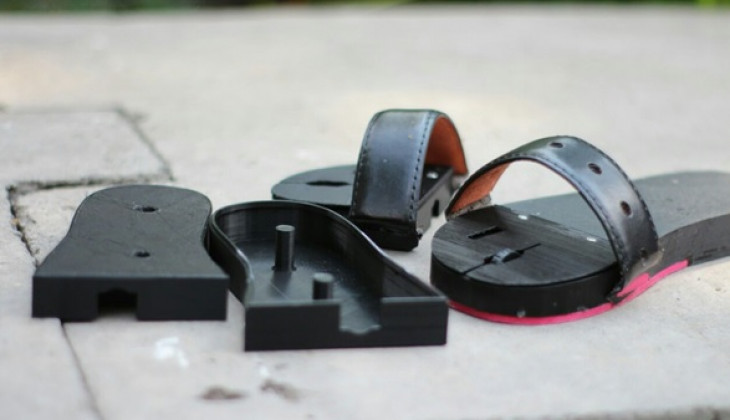 A group of students of Universitas Gadjah Mada (UGM) have made a mouse for disabled people, which is named as Difable Care (DC) Mouse.
"DC Mouse is an optical mouse specially designed for people that have physical limitations. The mouse is shaped like a sandal which is adjusted to the anthropometry of a human foot," said Devita Ayuni Kusumaningsih, member of DC Mouse team, when contacted on Wednesday (14/8).
Devita, along with fellow Engineering students, Muhammad Zhafran Haidar Muttaqin and Akhmad Adham Nur Husaen developed the tool under the supervision of Dawi Karomati Baroroh, S.T., M.Sc.
The students had been concerned that some disabled people had limitations to access technology. Computers of today's design cannot yet accommodate their needs, for instance, the mouse is not suitable for everyone. She pointed out an example of a painter in Yogyakarta who had no arms had to paint with his feet. Colouring should have been easily done with the computer, but the mouse had not yet allowed him to.
"From there we developed the DC mouse that we hoped would help the disabled people to access the computer more easily so as to improve their productivity," she said.
DC Mouse is designed with four main features, right and left click, drag, and scroll., and is using Acrylonitrile Butadiene Styrene (ABS) and synthetic leather for convenience.
Using Software Autodesk Inventors and 3D printers, the students assembled the electronic components from the optic sensor that is connected with transceiver USB to a computer.
Zhafran added that DC Mouse can run on the highest pointer accuracy of 100 percent, efficiency 20 percent, and number of clicks 5.3 times per second. In 3 replications the average accuracy is 49 percent, efficiency 24 percent, number of clicks 3.7 per second, and number of scroll 400 pixels per second. Zhafran said this technology had yet to be developed further for commercialisation.
The DC Mouse is the product of Student Creativity Programme done by Higher Education Ministry. This product has earned grants from the Ministry and gone through to the National Student Scientific Week to be held in August at Universitas Udayana, Bali.