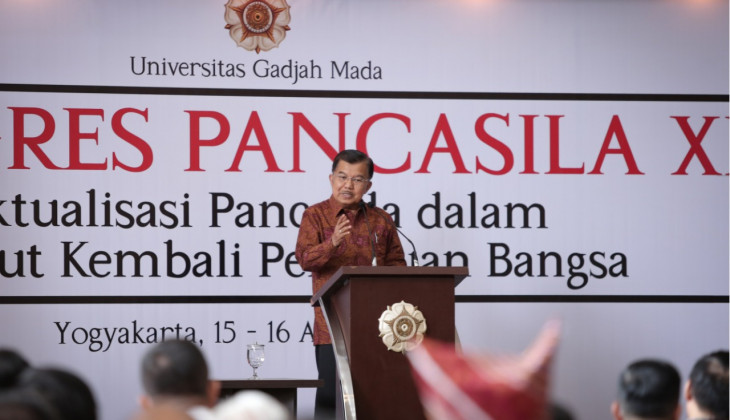 Vice-President Jusuf Kalla became a keynote speaker in the opening of XI Pancasila Congress held at UGM on Thursday (15/8).
In his remarks, he said he expected the people not to complicate discussion on Pancasila which could also stir confusion. "The easier the discussion, the better. So, people will understand it better and Pancasila values will get more imbued," he said.
Pancasila, he said, was not just a slogan or philosophy but the foundation of the state that had to be understood and implemented.
According to the Vice-President, the embodiment of Pancasila in people's lives was more important to do than the scientific interpretation of it which may instead cause different interpretations.
"Pancasila is actually very simple and firm, but sometimes people interpret and implement it differently, depending on the person," said Mr. Jusuf Kalla.
Before opening the Congress, the Vice-President asked the participants to produce outcomes that would be well understood by the people.
"I hope the Congress would produce outcomes which are simple, understandable, feasible, and measurable," he concluded.
The XI Pancasila Congress with the theme Actualisation of Pancasila to Re-build State Unity, confirms the responsibility of each element of society to maintain such unity.
This is important to do especially amongst the recent condition which has been filled by tensions and threats of disintegration as well as the confusion caused by hoax.
Rector of UGM, Prof. Ir. Panut Mulyono, M.End., D.Eng., IPU., said "The struggle of our predecessors was to break the structures that differentiate citizens, to reject anti-equality and anti-freedom. Unfortunately, until today there are still unbalanced power relations existing."
Therefore, strong wills and abilities are required from each citizen to work together to achieve the state vision. Unity is the key amidst conflicts, prejudice, and distrust.
"We need to give room to freedom of speech and belief, to protect them in order that ideas and creativity could flow freely. But let's do this in civilised and elegant manners," he said.
During the Congress, as many as 141 abstracts of papers would be presented. Other series of events to run were remarks by Communications and Information Minister and Governor of the Province of Yogyakarta Special Region and others.