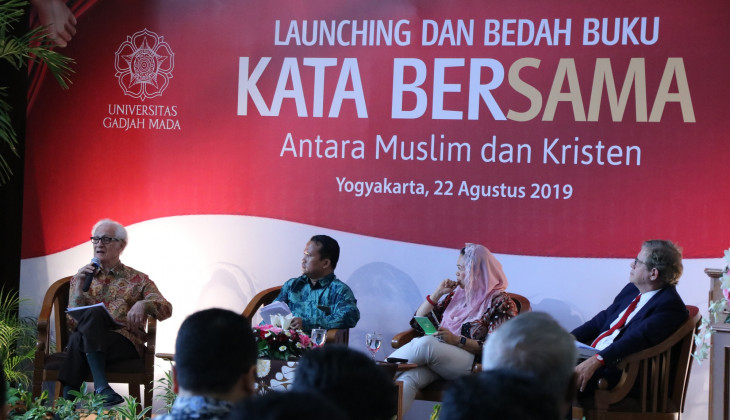 To celebrate the 14th Lustrum of Universitas Gadjah Mada (UGM), UGM Press launched a book, Kata Bersama Antara Muslim dan Kristen (Shared Words between Muslim and Christian), which is part of A Common Word Between You and Us written by various experts.
As many as 138 intellectuals and clerics signed the book, confirming that Islam and Christianity have the same most fundamental tenets, which is love for God and human beings.
Launching of the book was marked with a book review done by Prof. David K. Linnan (editor), Rev. Prof. Dr. Franz Magnis-Suseno SJ, Zannuba Ariffah Chafsoh (popularly known as Yenny Wahid), Dr. Zainal Abidin, M.A., Dr. R.B. Abdul Gaffar Karim, S.IP.,MA, and Dr. Hj. Siti Ruhaini Dzuhayatin, M.A.
The book includes writings by influential experts in theology, spirituality, metaphysics, human rights, and development. Through these areas, Muslims and Christians can have dialogue, collaborate, and support each other which is one of God's commandments to know each other in order to establish brotherhood.
Yenny Wahid commented the book should not remain as a document only but be implemented into national action plans, particularly regarding tolerance. The book was important and a must for students, she said on Thursday (22/8) at the Main Office.
"Nowadays we need to look for common grounds, loving fellow human beings despite our different religious backgrounds. But recently, religion has been reduced instead, people prioritise more on identity politics, not religious values," she added.
Rev. Magnis-Suseno said the most important thing in the discussion was not at the academic level but the implementation in society. For instance, a Catholic clergy came over to a Muslim cleric to introduce himself and establish relations.
"Clergymen in Catholicism have a vital role, they can build good relations with the Muslims by visiting the local religious leaders. There are just so many ways to do it, not just at the academic but also at the grassroots level," he said.