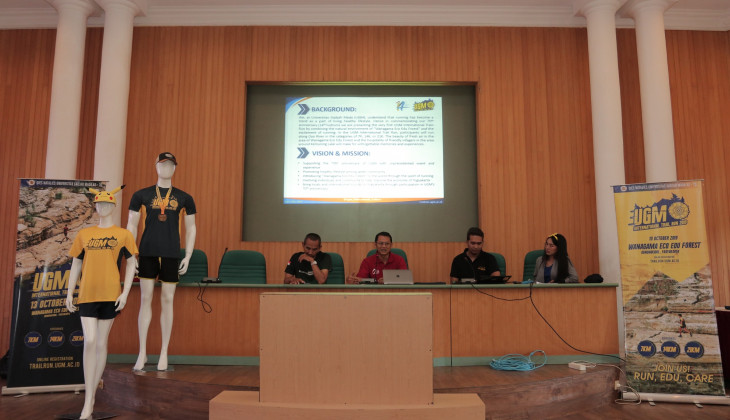 To celebrate its 70th anniversary, UGM will host International Trail Run (ITR) 2019. The event is the first for UGM and it will be held at Wanagama Eco Edu Forest, Gunungkidul regency, Yogyakarta on 13 October 2019.
ITR UGM 2019 will have three categories: 7 km, 14 km, and 21 km. The track has been designed as such for everyone to be able to join, especially beginners. They will run along natural tracks such as rivers and forests of Wanagama Eco Edu Forest.
Head of International Cooperation Sub-directorate, I Made Andi Arsana, S.T., M.E., Ph.D, said the forest of Wanagama was chosen as the fun run location due to its significance to UGM. Wanagama was formerly a barren land which later was planted with trees by Forestry UGM lecturers and nurtured by UGM academic community until today.
"Wanagama is a special forest for UGM, it's not just a regular forest but there has been learning processes in it, how UGM cares about the environment," he said at the Multimedia Room UGM on Wednesday (4/9) in a press conference.
Andi said they had chosen running because running was already a way of life for people nowadays. It's really positive and attracts many people.
Meanwhile, Nugroho, representative from Kagama Lari Untuk Berbagi (KLUB) organisation, said the run was not just for sports but also sharing. In the first year of the club establishment, they successfully raised funds for underprivileged students of UGM. This year they will share it with communities outside UGM.
"We want to give back to the people out there after last year we donated funds to UGM students who were underprivileged," he said.
The KLUB mission now is to raise funds for the disabled people. KLUB will give funds collected from the event registration and fundraising event to organisations for disabilities, Yayasan Cikal and Yayasan Yantumis.
Rustian from Trail Run Jogjakarta said there would be many things to learn by joining the UGM International Trail Run 2019. Compared to others, it will cross rivers twice, running by the riverside, and there will be opportunities to take beautiful pictures of the natural landscape.
Currently, there have been 500 people registering to the run of the 1000 target. Discounts will be given to participants that register collectively.