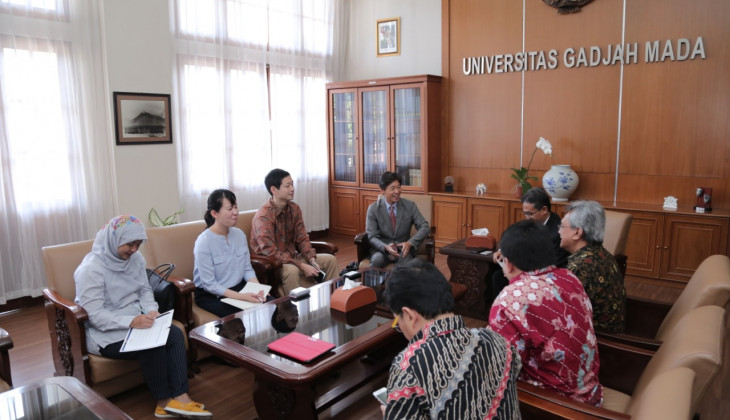 Universitas Gadjah Mada (UGM) and Japan International Cooperation Agency (JICA) have collaborated in digital based fabrication laboratories and human resource capacity to support SMEs product quality.
The programme has been responded positively by the Japanese Government through JICA by visiting UGM and several project locations in Yogyakarta. The JICA delegates consisted of Tomoyuki Naito and Takashi Kondo, and JICA Indonesia representatives Takatoi and Sayuri Uematsu. They met with Rector of UGM , Prof. Ir. Panut Mulyono, M.Eng., D.Eng., in UGM Conference Room on Thursday (5/9). Previously UGM delegates visited JICA office in Tokyo, Japan.
"We have initiated project cooperation assessment on development projects to improve the quality of life of Yogyakarta society through empowerment and education. This cooperation involves UGM, Kulonprogo and Yogyakarta local governments, and JICA," said Prof Jumina, expert from UGM after attending the meeting between the two parties.
According to Jumina, Rector UGM in the meeting expressed appreciation to the support from JICA. Previously, JICA has helped the building construction projects at 8 faculties and Vocational School of UGM. "I would like to extend my appreciation to the support from JICA on these projects," said the rector.
Jumina explained the fabrication laboratory construction was aimed at marketing the research outcomes from UGM and to empower the society around Yogyakarta. Jumina said a JICA team had visited some locations in Kulonprogo which would be the area for research applications of etawa goat milk processing. The JICA team also held a dialogue with the local residents, Bappeda Yogyakarta, and Directorate General of Science and Technology Resource in Research, Technology, and Higher Education Ministry, Prof. Ali Ghufron.