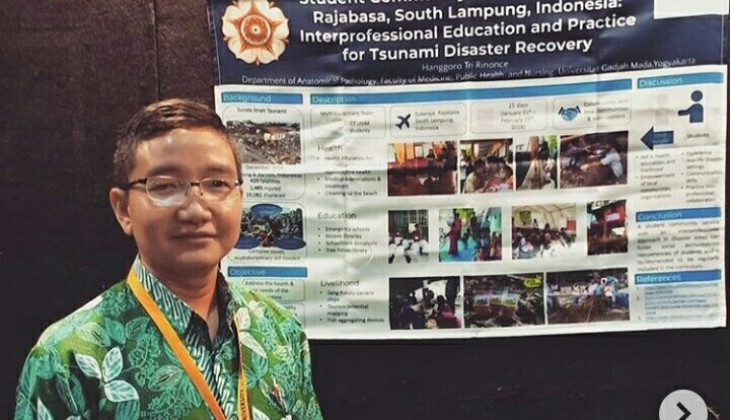 Lecturer of UGM, dr. Hanggoro Tri Rinonce, Ph.D., Sp.PA(K)., won second place in Best Poster Overall category during a conference, The Network Toward Unity for Health 2019, held in Darwin Convention Center, Darwin, Australia from 10-13 September 2019. Besides, dr. Widyandana, MHPE., Ph.D., came in third place in Best Poster Overall in the same event.
Hanggoro presented a poster entitled Student Community Service in Sukaraja, Rajabasa, South Lampung, Indonesia: Interprofessional Education and Practice for Tsunami Disaster Recovery. It is the result of Student Community Service UGM project on disaster awareness. Meanwhile, Widyandana presented a poster, Community Cadre Training in Rural Areas by Health Interprofessionals Undergraduate Students, a programme of CHFC-IPE FKKMK UGM.
Hanggoro described the approach taken by UGM in handling the tsunami impact in the Sunda Strait, particularly in Sukaraja, South Lampung. On the other hand, Widyandana described the benefits of the Student Community Service for the students from different disciplines.
"We sent as many as 25 students from various faculties to the area and focused on health, education, and environmental issues," said Hanggoro on Saturday (14/9).
The students stayed in the location for 25 days and conducted work programmes. In health issue, they gave training regarding healthy lifestyle and reproductive health, and they did health checks as well as beach cleaning. In education topic, the students ran fun school for children, mobile library, and book donations. In environment topic, they trained the residents how to make and market banana chips, fish trap, and to identify tourism potential to restore the economic potential that was halted due to the tsunami.
"During the project to empower the local people, we worked with Kagamacare that had come there earlier," he said.
This was not the first time Hanggoro made a presentation in international forums related to student community service. Previously, he presented it at TUFH Conference 2018 in Limerick, Ireland.
He hoped in the future Student Community Service programme would impact bigger on community empowerment. This way UGM would be better known as a university with high social accountability, which may attract international students to join it as a learning means with cross-disciplined approach.
Director of Student Community Service UGM, Prof. Ir. Priyambada, M.Eng., Ph.D., appreciated this achievement, saying he had wanted to see a paper related to Student Community Service and its benefits, which has now indeed materialised.