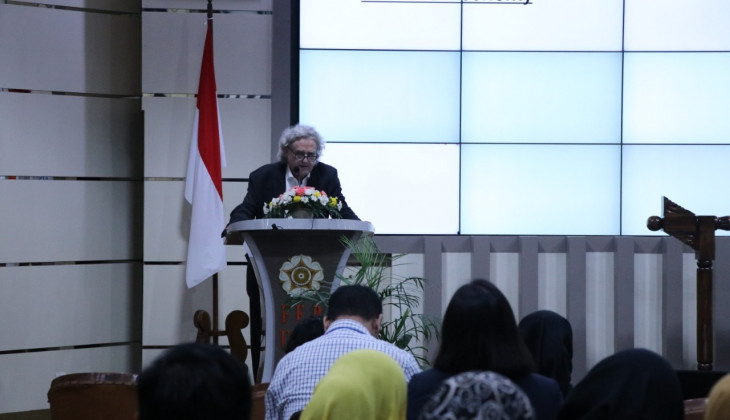 Faculty of Economics and Business UGM organised The 7th Gadjah Mada International Conference on Economic and Business (GAMAICEB) on Saturday (14/9) in the Learning Centre of the Faculty. This is a part of a series of events to celebrate the Faculty's 64th anniversary.
The annual conference this time invited Paul Smith from British Council Indonesia as keynote speaker. For plenary sessions, three speakers were invited, namely Prof. Ferry Jie, Ph.D., (School of Business and Law of Edith Cowan University, Australia), Dr. Boyke Purnomo (UGM), and Ayu Phersal Gozali (Euromonitor International). The speakers discussed the theme of Creative Economy: Trends, Opportunities, and Challenges.
Event coordinator, Wuri Handayani, said that creative economy can spark hopes for supporting Indonesia's economy, especially in dealing with the problems of demographic bonus and economic problem itself.
"Through this conference we want the 200 participants to share knowledge, experience, and problems in creative economy," she said.
Dean of Faculty of Economics and Business, Eko Suwardi, added that creative economy sector in the country was increasing significantly by 7.4 percent. Creative economy can indeed spur the country's economy. The government has also conducted international conferences on creative economy after seeing this opportunity.
"GAMAICEB in its seventh year is always open to discussion regarding economic and business issues. The forum will study those issues starting from opportunities and consequences. The outcome of the conference will be an input for policy makers," he said.