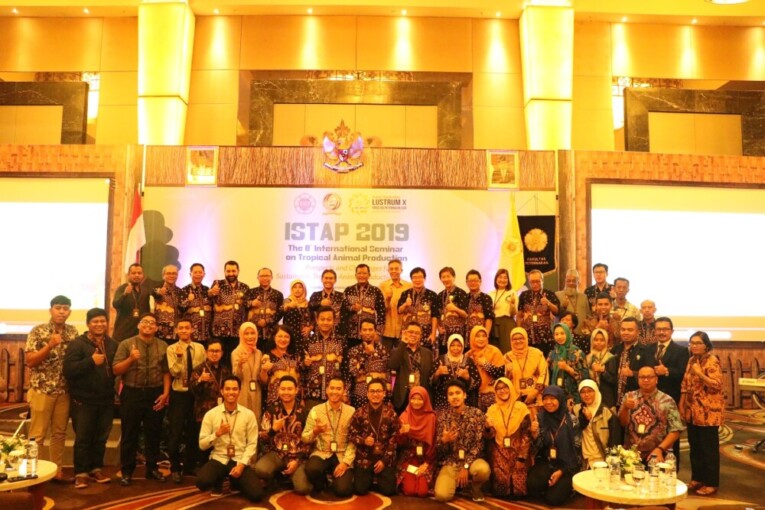 Faculty of Animal Sciences UGM organised the 8th International Seminar on Tropical Animal Production (ISTAP) from 23-25 September 2019 in collaboration with Indonesian Society for Sustainability Tropical Animal Production (ISSTAP).
Participants came from 11 countries which are Aljazair, Australia, China, Japan, India, Malaysia, Kuwait, the Philippines, South Korea, Timor Leste, and Indonesia. The participants will make a presentation of their research outcomes orally or through posters.
To give talks in the plenary session, experts have been invited from 8 countries, namely Prof. Sang Jip Oh (South Korea), Prof. Loh Teck Chwen (Malaysia), Prof. Ryo Akashi (Japang, Dr. Bambang Suhartono (Indonesia), Dr. Liza G. Battad (Philippines), Dr. Abdulameer Alsaffar (Kuwait), Prof. Nuzamuddin Khan (India), and Dr. Zhen Liu (China).
Prof. Dr. Ir. Ali Agus, DAA., DEA., IPU., Dean of Faculty of Animal Sciences UGM, said the seminars had contributed significantly to the national food security in the form of new knowledge and tools that are now getting more environmentally friendly and effective.
Rector of UGM, Prof. Ir. Panut Mulyono, M.Eng., D.Eng., said that on the theme of Prospect and Challenges for Sustainable Tropical Animal Production System, he hoped the seminar would produce solutions to the production of animal husbandry problems in the world. He also hoped this would benefit the local farmers in the country.
"The seminar will be a forum for UGM with its research to help Indonesia develop animal husbandry in tropical regions. Hopefully, our production will increase so we need not import the meat any longer," he expressed his hopes.