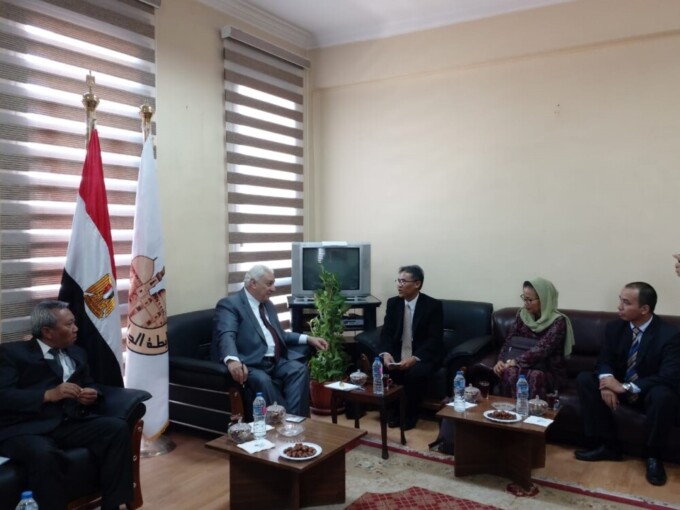 Rector of Universitas Gadjah Mada (UGM), Prof. Ir. Panut Mulyono, M.Eng., D.Eng., IPU., ASEAN. Eng., visited the League of Islamic Universities in Cairo, Egypt on Wednesday (9/10). He is accompanied by Rector of UMS, Prof. Dr. Sofyan Anif, M.Sc., Attaché of Education and Culture, Dr. Usman Syihab, and leader of Tazakka Islamic boarding school, KH. Anizar Masyhadi. The delegates were received by Secretary General of the League, Prof. Dr. Usamah Abed.
Usamah said the relations between Indonesia and Egypt had long been established, hence very close. He appreciated Indonesia as a country with the largest Muslim population that puts forth washatiyyat Islam (moderate Islam) value in line with the spirit and and value of Al-Azhar and Egypt.
Usamah hoped a collaboration in education would be established between higher education institutions in Indonesia and the League of Islamic Universities so this can accelerate and advance education, student exchange, scholarship, research, international seminars, etc.
Panut Mulyono welcomed the collaboration plans. He further invited the Secretary General to visit UGM.
"With the international relations and cooperation being established, sharing of experience between universities will occur," said Panut.