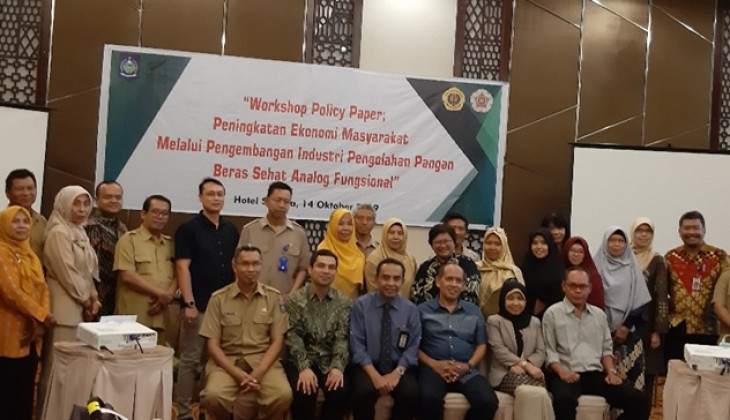 Universitas Gadjah Mada (UGM) has encouraged farmers in East Lombok to produce Functional Analog Rice to be an alternative as well as improving the economy of the local people of East Lombok.
Director of Community Resilience and Economic Development Programme (CaRED) of UGM, Ali Awaludin, M.Eng. Ph.D., said the programme was implemented through CaRED UGM, a collaboration with New Zealand Foreign Affairs & Trade Aid Programme (Massey University, New Zealand), Universitas Mataram (UNRAM), Food Security Agency of West Nusa Tenggara, and regional government of East Lombok.
The theme of the programme was Smallholder Livelihood Improvement through Small Scale Functional Analog Rice Food-Base Processing Enterprise: An Action Research Approach to Smallholder Agribusiness and Food Processing Industrial Development in East Lombok – West Nusa Tenggara Province. The team was led by Dr. Rumiyati, M.Si, Apt. (Pharmacy UGM) with members Prof. Ir. Sri Widyastuti, M.App.Sc., Ph.D. (UNRAM), Prof. Dr. Agung Endro N., M.Si., Apt. (UGM), Prof. Dr. Yudi Pranoto, M.P. (UGM), Dr. Yekti Asih Purwestri, M.Si. (UGM), and Dr. Ir. Satrijo Saloko, M.P. (UNRAM), and reviewer from Massey University, Dr. Janet Reid. Research and development started since 2016 with funding lasting until 2019.
"Programme output is Functional Analog Rice," he said on Monday (14/10) in a workshop held in Mataram to address improvements of the economy through Functional Analog Rice development.
Functional Analog Rice is an alternative rice made from modified cassava flour, corn flour, pigeon pea flour, and seaweed flour. It is made by extrusion technology so it produces uniform grains similar to that of rice.
Ali said the Functional Analog Rice was produced by UD. Kaya Rasa industry in Masbagik area, East Lombok, already having production permit as well as halal certification. It has also passed market research led by Dr. Sang Kompiang Wirawan, S.T., M.T. from Business and Incubation Directorate UGM and Ir. Rosmilawati, M.S. in addition to a team from UNRAM.
"Hopefully, the Functional Analog Rice in the future will be accepted by a broader market, not only in West Nusa Tenggara and Yogyakarta, but also across Indonesia," he said.
Vice-Rector of Universitas Mataram, Agusdin, S.E., M.B.A. DBA., opening the workshop expressed his hopes for the development of the Functional Analog Rice. He hoped this food diversification would improve the economy of the people of East Lombok and it became a commodity of reliance of West Nusa Tenggara.