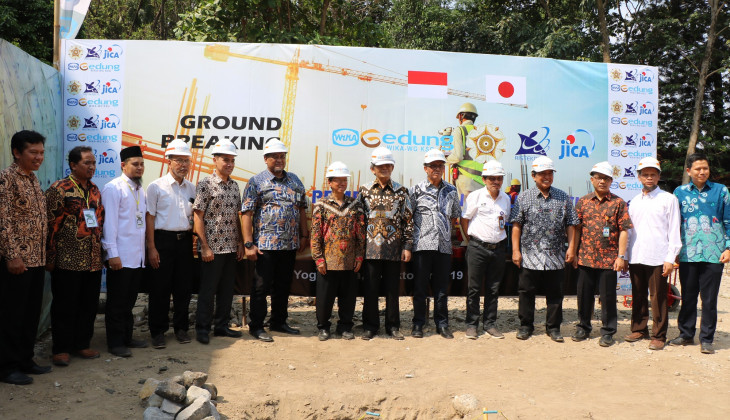 Universitas Gadjah Mada's (UGM) Vice-Rector of Human Resource and Asset, Prof. Dr. Ir. Bambang Agus Kironoto, laid the first rock for the construction of the Integrated Forest Farming Learning Center (IFFLC) building, for Faculty of Forestry UGM. As part of the 56th anniversary celebrations of the Faculty, the event ran alongside a prayer conducted for the inauguration of Joko Widodo, alumnus of the Faculty, as President of the Republic of Indonesia for the period of 2019-2024. A number of officials and management of PT. Wijaya Karya (persero) attended the groundbreaking event.
Kironoto said the IFFLC was one of the ten buildings constructed by UGM with loans from JICA. Bambang agreed that the concept of the IFFLC would be a green building concept, because energy use is increasing from time to time, citing monthly funds worth IDR 2 billion paid by UGM for electricity.
"Not to mention the new 10 buildings, and there will be tens of new buildings to be constructed in the next five years. In 2020 there will likely be 20 new buildings, so we really have to think about the strategy and schedules for all to run well," he said.
Dean of the Faculty, Dr. Budiadi, S.Hut., M.Agr.Sc., said the IFFLC was an important pillar of UGM by way of Faculty of Forestry to accelerate the achievement of Sociopreneur University innovation. IFFLC would be the centre of development for Integrated Forest Farming System (IFFS) which covers innovative construction of IFFS, appropriate technology of IFFS, information centre of IFFS and network development of IFFS.
The IFFLC will further support the enhancement of academic orientation of socio-entrepreneur university not just in terms of teaching, but also integrating research construction through research downstreaming for the the more prospective development of Indonesia.
"Against this background, the construction of the building needs to be supported fully by stakeholders so the IFFLC building will give real contribution in terms of university mission," he said.
The IFFLC building will comprise seven floors measuring 5,443.99 sqm in total. Construction work starts from 15 October 2019 - 9 August 2020.