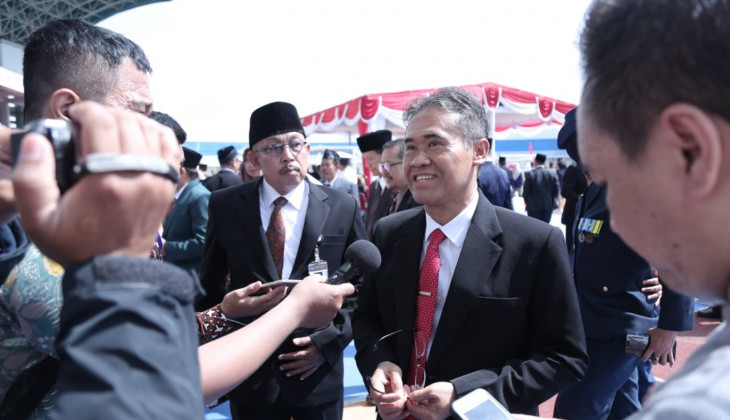 Universitas Gadjah Mada's (UGM) first Rector, Prof. Dr. M. Sardjito, MPH, has been granted the title of National Hero by the state. A decision letter on this title was signed by President Joko Widodo on 8 November.
Current Rector of UGM, Prof. Ir. Panut Mulyono, M.Eng., D.Eng., IPU, ASEAN Eng., welcomed the title presentation as proposal submission for such presentation had been done since 2012. "We have long submitted the proposal for such title presentation since 2012. Finally, this year a letter from the President has been issued and inaugurated Prof. Sardjito as National Hero. Obviously, we are thankful following that decision," said Panut Mulyono after participating in the National Hero's Day on Sunday (10/11) in Mandala Krida Stadium, Yogyakarta.
According to Panut, the presentation of the title would give a positive reputation to UGM and inject the spirit to the academic community and alumni to follow his roles. "That can inject the spirit to the academic community to follow Sardjito's sincerity and seriousness in serving the state," he said.
Panut Mulyono further described the contribution of Sardjito during the independence war, such as making biscuit formula for the independence fighters. "He is known as a scientist and fighter. His most monumental contribution was to make biscuit formula from nutritious ingredients that would energise the fighters during the war," he said.
Sardjito is also the first Director of Institut Pasteur that produced vaccines and drugs for soldiers and people. During the Bandung Sea of Fire event in 1946, he tried to secure chickenpox vaccine because such vaccine was an important asset in a physical revolution. He injected the vaccines into the body of a buffalo. The animal was later transported from Bandung in West Java to Klaten in Central Java. Upon arrival, the animal was slaughtered, the lymph was recovered, and the vaccine was retaken that would save the life of the soldiers and civilians. "He did not carry the vaccine in a bottle but inserted it in a buffalo," he said.
Prof. Dr. M. Sardjito was born on 13 August 1889 in Purwodadi village, Magetan city, East Java. After completing his studies in Primary School, he continued to STOVIA in Jakarta. Being a diligent student with an intellectuality, he graduated as the best student and earned a scholarship to study in Leiden. He earned his doctoral degree in Leiden in year 1923 after defending a dissertation on hot climate diseases.
He became UGM Rector for 11 years and Rector of Universitas Islam Indonesia between 1964-1970. His well-known research is one on Calcusol that can destroy kidney stones.