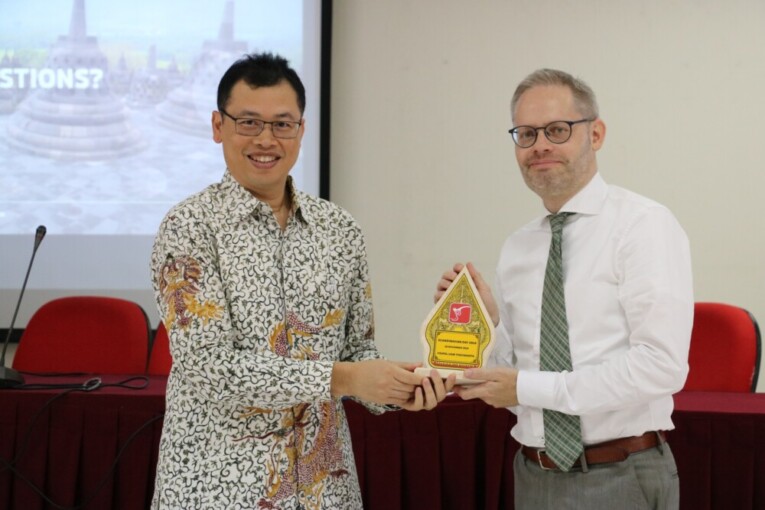 Ambassador of Denmark to Indonesia, Timor Leste, Papua New Guinea and ASEAN, H.E. Rasmus A. Kristensen, delivered a public lecture to International Relations students of Universitas Gadjah Mada (UGM) on Monday (18/11) at Faculty of Social and Political Sciences.
Dean of the Faculty, Prof. Dr. Erwan Purwanto, said the general lecture was organised by inviting ambassadors to share knowledge and insight on international relations issues. "We have a regular event to invite ambassadors of friendly countries in Indonesia or Indonesian ambassadors abroad who happen to be here, we would invite them to share knowledge with our students," said Erwan to reporters.
During the Ambassadorial Lecture, the Danish Ambassador touched upon the good relations between Denmark and Indonesia and a number of issues of common attention between them. "He invited the students to think about these problems, too," said Erwan.
Several issues of importance between both countries, said Erwan, were environment and education. According to Erwan, Denmark is an example of a European country that pays great attention to the environment through sustainable development. Danish education system is currently also a reference for other countries, including Indonesia. "Scandinavian countries, like Denmark and Finland, have education systems that are emulated by other countries," he said.
According to Erwan, apart from linking the education system with creative economy development, the education concept in the two states have combined studying and playing activities together.
"The education in that country makes studying not stressful, learning and playing is done at the same time in an activity so that children in primary and middle schools can be more productive. That's different from what we normally do here, our children get nervous when in class," said Erwan.
The Ambassadorial Lecture, said Erwan, would be continued to ask students to pay attention to international issues and to have a critical thinking. "We hope that our students can get creative in resolving problems that have become a global issue," he concluded.