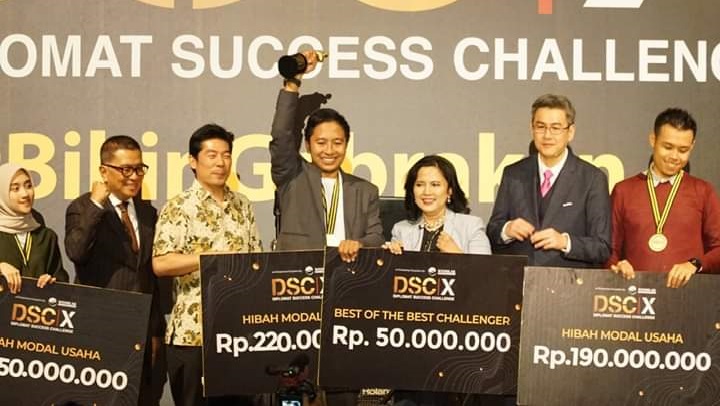 Andromeda Sindoro, alumnus of Faculty of Animal Science UGM who is also CEO of Sweet Sundae Ice Cream, has become the Best of The Best Challenger winner during the Diplomat Success Challenge (DSC X) 2019 event. He won the competition after beating 12,500 proposals.
Andro said his win was thanks to the strategies he had employed to develop the Sweet Sundae Ice Cream for 12 years. He said initially he sold the ice creams through vendors in the neighbourhood. But this did not last long because there were times when sales were low. So, he changed the strategy to horeca, or hotel, restaurant, and catering.
"This method has benefits that include continuity. During Ramadan, many people came to hotels and restaurants to break their fast. During school holidays, restaurants and hotels are fully occupied by travellers," he said.
According to Andro, this way, investments in freezers were not needed because hotels, restaurants, and caterers already had their own. So, he offered to do sundaes delivery to them.
"This service offers the 'order today, delivery today' system which benefits hotels and restaurants because it prevents them from stock shortcomings due to delivery delays," he said.
Due to his hard work, the business has been able to supply 15 caterers in Yogyakarta, 2 in Jakarta, and 1 in Bali.
Andro is now developing cages in Hargobinangun area in Sleman regency to house 500 cows in order to meet the need of milk. He also developed an application for cow raising, piaraa.id, to be launched in February 2020. Due to the success, Andro had been invited by Minister of Cooperatives and MSMEs, Teten Masduki, recently.
Dean of Faculty of Animal Science UGM, Prof. Dr. Ir. Ali Agus, DAA., DEA., IPU., ASEAN. Eng., assessed that the piaraa.id platform by Andro could catch up with the lack in milk production in the country. The app develops international scale cooperative basis in Indonesia and would be the basis of economic power in villages. Andro has been scheduled to make a business plan presentation in December 2019 in front of President Joko Widodo.
"Andro is the representation of millennial businessman that has idealism, good planning and strategy," said the Dean.
Previously in October 2019, Andro became the winner of Asia Pacific Economic Cooperation (APEC) o2o Forum. He beat 7 participants from Russia, Peru, Malaysia, and the Philippines.
Andro's success was thanks to the integrated technology in the business starting from finance, warehouse, order, cashier, sales, marketing, and recruitment which absorbed more milk than others through good prices. "This would eventually support the milk production increase in Indonesia," said Ali Agus.