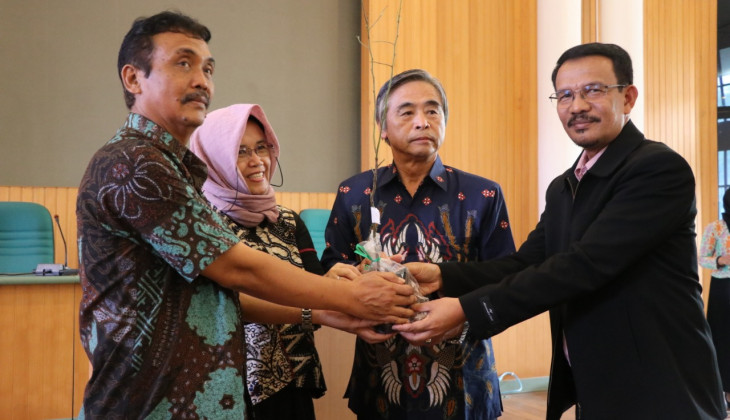 Universitas Gadjah Mada (UGM) established collaboration to develop blueberry farming with Japan Association. Visiting UGM, President of Ezawa Fruits Land and Blueberry Association, Sadao Ezawa, handed over blueberry seeds to be grown in Indonesia.
"I've visited the site to plant the blueberry. I hope with this seed presentation, blueberry farming in Indonesia will flourish," he said.
He explain blueberry farming in Japan started in 1951 through simple technology and method. Initially, however, production was not much due to various problems. But along with technology advancement, in the 80s blueberry farming had developed well. Across Japan there are 120 blueberry lands that is 7 hectare each in size.
Ezawa became one of the people that had developed a special method to grow the fruit. He had also written over 20 books about the method. "It's very simple. I believe it will be a success if you apply it," he said.
Vice-Rector of UGM for Research and Community Service, drg. Ika Dewi Ana, M.Kes., Ph.D, said the event was the opening to a stronger cooperation between Indonesia and Japan, particularly in research that is useful for society.
"I hope with this research we can find new varieties that are suitable for the Indonesian society," she said.
Meanwhile, Director of Fruit and Floriculture in Agriculture Ministry, Liferdi Lukman, said this cooperation would give positive impacts remembering the still negative import trade balance for horticulture.
"Our import is pretty high while export is still low. In 2018, the import was 32.62 trillion worth, while export 6.211 trillion," he explained.
He added the fruit consumption trend in society had increased because more people became aware of the benefit. But with the increasing demand, the government ought to encourage local production to meet it. Although blueberry is a subtropical fruit, he was optimistic that it can grow in Indonesia. However, he expected further studies to be done to cultivate the fruit well.
"It's only appropriate that there's a cooperation with universities because this subtropical fruit needs to be studied. We believe UGM with its good laboratory facilities can develop it well," said Liferdi.